Since 2021, Sustainable Ocean Alliance (SOA) and the Environmental Defense Fund (EDF) Fishery Solutions Center have partnered to provide funding, mentorship, and capacity-building resources to young ocean changemakers through the Leadership for Climate-Resilient Fisheries Fellowship (LCRFF). Through the program, fellows have the opportunity to dive deep into the impacts of climate change on fisheries and are equipped with the necessary tools and resources to enhance their solutions to boost sustainability and resilience.
In 2022, the program supported ten fellows (averaging 27 years of age) in the United States with over $95,000 in total grant support. Some of the proxy measurements of their collective impact on U.S. fisheries include generating over 10,000 kg of sustainable Blue Foods, creating 15 jobs, generating $116,500 in value for local communities, introducing new fishing methods to 375 vessels, and providing an average of 15 hours of training per person to over 240 people in practices like regenerative kelp farming and fish survey data collection. The fellowship included a trip to Washington, D.C. to meet with U.S. representatives to inform them of how principles of climate-resilience relate to sustainable management fisheries policies impacting their state.
The 2022 Fellowship concluded in June of this year. Celebrate them by exploring their incredible work and unique approaches to advancing climate-resilience in U.S. fisheries!
---
Reeler: Mobile App | Kailua, HI, United States of America
Reeler is a mobile app that is revolutionizing the seafood supply chain by connecting consumers directly with local fishers who use sustainable fishing methods.
Fellow Spencer VanDerKamp launched the Reeler app, with co-founder Lauren Pierce, in 2020, utilizing their extensive knowledge and passion for fishing. With the COVID-19 pandemic impacting the fishing industry in Hawaii, they recognized the need for a platform that would enable local sellers to connect with local buyers in a more efficient and sustainable manner.
The company's commitment to only allowing small-scale, line-caught or artisanal fishing methods with minimal bycatch and environmental impact empowers consumers to make ethical and eco-friendly choices while educating them about the fish they consume. Reeler's efforts to increase these fishers' income by direct-to-retail pricing have helped them invest in newer, more efficient gear, ultimately reducing the need to catch more fish.
Through the fellowship, Reeler has increased its fulfillment rate, grown its customer base to 1,000 users, and generated $100,000 in sales for sustainable fishers in the Hawaiian Islands. Their upcoming priorities include expanding their marketplace beyond Hawaii so keep a look out for them and download their app!
"Our greatest achievement [of the fellowship] was proving the concept, that people want access to fresher, sustainably caught fish direct from a trusted, local source." - Spencer VanDerKamp
OnDeck: AI for Automatic EM and Reporting | Vancouver, B.C., Canada
OnDeck's AI-driven software solution transforms fisheries management through automated catch monitoring.
Misreporting of catch and unsustainable practices have long plagued the fishing industry, but OnDeck is changing the game with its affordable and scalable monitoring solution.
Fellow Alexander Dungate founded OnDeck to make monitoring of fish catch much more efficient and sustainable. Whereas the current practice requires someone to watch all video footage recorded on fishing vessels, their prototype uses artificial intelligence to automatically detect when a fish is in the frame. This tech enables real-time reporting of catch and bycatch for commercial fisheries, a cost-effective way to monitor fishing efforts, and responsiveness to changing fishing patterns that can result in more informed policy decisions and yield limits.
With SOA's support, OnDeck was able to afford to run their first pilot and raise matching funds through the Canadian government. Over the course of the LCRFF, OnDeck achieved an incredible 85% accuracy in fish detection through their monitoring software prototype, and testing by a monitoring company in Canada indicates that their software could cut fisheries monitoring costs by 40-60% for pelagic longline fleets.
Noble Ocean Farms: Kelp Farming for Climate Resilience | Cordova, AK, United States of America
Noble Ocean Farms is strengthening food security and ecosystem health in the Alaskan Eyak Community through regenerative kelp farming.
Kelp farming is more than just a sustainable food source—it's a movement towards a healthier planet and healthier communities. With no soil or fertilizers required, kelp farms reduce pollution and provide critical habitats for marine species.
Fellow Skye Steritz co-founded Noble Ocean Farms with her partner Sean in 2020, not only to establish a regenerative kelp farm but also to benefit the local community—many of whom belong to indigenous or immigrant communities—by training them on how to build their own kelp farming ventures, with workshops on growing, harvesting, and processing. The nutritious kelp that they provide locally to schools and other consumers contributes to the climate-resilience of this relatively isolated and food-insecure region of Alaska.
With SOA's support, Noble Ocean Farms' innovative kelp farming yielded a record-breaking 3,720 pounds more than three times the amount of the previous growing season!
"Our feedback from the local community has been excellent, with a great diversity of people showing up for workshops to learn more about kelp farming. It makes us confident that our business is exhibiting the reciprocal relationship we always believed in. During the project period, we have deepened relationships with other kelp farmers in Alaska, the Chugach Regional Resources Commission and the University of Alaska." - Skye Steritz
Local Catch Network: Find Your Seafood Campaign | Orono, ME, United States of America
Discover fresh and sustainable seafood near you with the "Find Your Seafood" tool, connecting consumers to local fishers and promoting healthier oceans for all.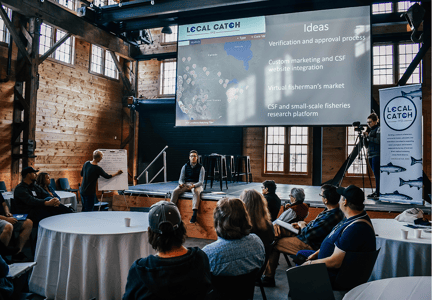 Find Your Seafood is a digital tool created by Local Catch Network to connect consumers with local fishers, reducing the carbon footprint of the seafood industry and promoting a healthier planet. Emily DeSousa led their 2022 Find Your Seafood Week (FYSW) campaign to engage fishers and consumers on the importance of local, sustainable catch.
Through the help of SOA, over 200 fishers and seafood harvesters were trained in developing social media and storytelling skills, so they can become self-sustaining, self-marketers (and run their own campaigns similar to FYSW. The successful social media campaign during Find Your Seafood Week engaged over 3,500 individuals, shedding light on the vital role played by small-scale and community-based fisheries, raising awareness about their social and environmental contributions, and fostering access to local seafood choices.
Tech Enabled Anglers: Fish Alert – Changing the way you fish with friends | San Rafael, CA, United States of America
Never miss a catch with electronic monitoring technology that alerts you when a fish is on the line!
Tech Enabled Anglers was established in 2021 by two visionary friends (connected by their service in the U.S. Coast Guard) who saw an opportunity to leverage technology to modernize the recreational fishing industry. Fellow Alexander Min, led their initiative test and iterate on their Fish Alert prototype--a product that sends an alert to your phone when a fish is on the line, and eventually, might be able to provide more information about local catch limits, species, etc.
With a focus on increasing understanding of our oceans and fostering a community of fishery activists committed to sustaining the planet's natural resources, the company is building awareness and familiarity with technology among fishermen and the communities they serve, including children.
The support of SOA has allowed them to interview and survey recreational fishermen, refine their prototypes, test their product in the field, and engage 60 children with a STEM experience centered on the pleasure and importance of fishing.
"I had blinders for my impact on the resource, I had biases against environmental organizations and fisheries management, and perceived the resource as a given. I leave the program as an advocate for the resource and plan to be a champion not only for the resource users, but also the resource. I realized that my blinders and biases existed and have changed my perspectives and views on others and see them as co-collaborators versus enemies." - Alexander Min
Mote Marine Laboratory: Sustainable Gulf of Mexico Multispecies Fisheries | Sarasota, FL, United States of America
Real-time fish hotspot maps generated from electronic monitoring (EM) data.
Bycatch is a well-known issue in the fishing industry, but the use of automated EM has brought a solution. Fellow Katie Harrington, an early-career Research Technician at Mote, led an effective and well-organized initiative to create hotspot maps that display high-catch and low-bycatch regions, which fishermen can then use to avoid bycatch and operating more efficiently. Additionally, the data offered by these maps are valuable to fisheries managers, who can utilize them to manage stocks more effectively, enabling sustainable practices that ensure the fishery's health in the long term.
With the support of SOA, 13 vessels were able to provide data for map creation, and 15 maps were produced to provide the industry with valuable data for more efficient fishing practices.
"Not only have I become technically proficient in three different software programs because of this project, but I have also made a difference in my working community of commercial fishermen. I learned valuable skills in grant writing, reporting, science communication, and adaptive leadership." - Katie Harrington (view a video of Katie here)
Robyn Linner: Eastern Gulf of Maine Sentinel Survey | Stonington, ME, United States of America
The annual "Sentinel Survey" seeks to understand the effects of climate change on Atlantic cod and other species in the eastern Gulf of Maine to inform federal management.
The Sentinel Survey is tackling a major knowledge gap in marine research: the disappearance of cod in the Gulf of Maine. Faced with a lack of federal data and the inability to survey through traditional trawling methods (because cod live too close to the seafloor), Fellow Robyn Linner has stepped in to lead this annual survey since 2019 in partnership with Maine Center for Coastal Fisheries.
The survey collects biological samples and compiles catch data to shed light on the impact of warming waters on this struggling species. With cutting-edge hook gear, this survey is reaching the shallow, warm areas where cod thrive but are difficult to sample with traditional methods. By exploring how climate change and other human factors affect cod diet and size, scientists are building a better understanding of this essential habitat and creating the tools for a more resilient future.
Thanks to the support of SOA, Robyn was able to conduct the survey as well as document her process and train other scientists so that the survey can continue after she moves on in 2023. She conducted trainings on survey design and implementation, data collection, and knowledge of cod distribution and biological sampling, and left a dataset that will enable future replication of the survey.
Catherine Lawrence Alves: The Northeast Climate Resilient Fisheries Network | Narragansett, RI, United States of America
Connecting stakeholders in the Northeast US to facilitate action for building climate-resilient fisheries.
The absence of information sharing among scientists, policymakers, and communities is a significant obstacle to addressing climate change.
To overcome this challenge, Fellow Catherine Alves, Ph.D. led the creation of the Northeast Climate Resilient Fisheries Network, which aims to enhance communication between researchers, breaking down silos to create connections that strengthen scientific capacity.
Catherine, along with fellow scientists Katherine Maltby, Ph.D. and Julia Mason, Ph.D., created a website connecting researchers at various stages of their careers to share ideas, collaborate across sectors, and amplify the voices of early-career researchers who may have limited access to a wider network.
Through the support of SOA, 90 individuals were engaged in virtual network meetings, in-person networking events, and conferences, strengthening the capacity of Northeast US fisheries to build resilience to the impacts of climate change. They also have submitted one publication for peer review at the ICES Journal of Marine Science.
Niza Contreras: Increasing Fisheries' Resilience to Climate Change | Ensenada, Baja California, Mexico
Understanding the adaptive strategies fishing cooperatives in Baja California are utilizing to maintain fish populations as climate changes.
Adapting to the impacts of climate change requires collective and informed action from communities, yet archaic systems and community silos continue to hinder the widespread sharing of information.
The premise of the master's work of Fellow Niza Contreras is that community-based knowledge-sharing is key to building resilience to climate change, and by studying successful strategies practiced by fishing communities they can be distilled, classified, and shared with other communities. Specifically, Niza sought to understand—through analyzing data—how fishing cooperatives and artisanal fishing communities practice sustainable fishing.
With support from SOA and EDF, Niza conducted an exhaustive review of fishing data, classifying and analyzing them based on over 22 attributes of climate resilience. She then organized and led a two-day workshop in Bahía de Kino, Mexico, with 5 female fishers from the fishing cooperative Mujeres del Mar de Cortés to share these attributes and gather feedback from them. She also published an article about her work on the New England Aquarium website.
Conner Muir Smith: Advancing Native Leadership in Coastal Management | Santa Barbara, CA, United States of America
A landscape analysis highlighting success stories from Native-led fisheries and aquaculture projects along the Pacific Coast.
As part of his Master's work at UC Santa Barbara (UCSB), Fellow Conner Smith sought to create a publicly-accessible landscape analysis of Native-led fisheries and aquaculture projects, as a way to promote resilient fisheries management and Native sovereignty.
Conner made connections with Indigenous groups in California and attended the Decadal Review of MPAs, which was a poignant experience for Conner and prompted him to publish an article on the experience.
Conner published the landscape analysis as a Guide to Indigenous Co-Management and Food Sovereignty in the Pacific Coast of North America, which integrates co-management case studies and food sovereignty resources, offering valuable insights into the interconnectedness of wild harvest, aquaculture, and protected area management. Conner wrote a blog post about his experience that you can read here.
With SOA's support, the project founder established relations with more than 30 practitioners throughout the West Coast and completed the landscape analysis and accompanying reading list. He plans to continue to update the guide, reading list, and continue conversations and relationships he developed with the West Coast Ocean Alliance, Tribal Marine Stewards Network, and Ocean Protection Council to ensure his findings and recommendations help shape co-management approaches in California moving forward.
---
About the Leadership for Climate-Resilient Fisheries Fellowship:
The Leadership for Climate-Resilient Fisheries Fellowship (LCRFF) has proven to be a valuable platform for young ocean change-makers to make a lasting impact on the fishing industry.
By providing funding, mentorship, and resources, the program has empowered fellows to create jobs, generate income for local communities, increase climate resilience, and introduce new fishing methods.
For 2023, SOA and EDF selected a new cohort of global fellows earlier this June (hailing from 9 different countries), and will share more about the 10 selected fellows over the course of their year-long fellowship.