Plastic is found in so many of the products we use and rely on each day: from bottles, packages, bags, and films, to resins, labels, and wraps. It's also decimating our environment—particularly in marine and coastal contexts.
In response to heightened public and shareholder pressure, a growing portion of companies who produce plastic packaging (which alone accounts for 36% of all plastics production worldwide) have made public commitments in an effort to level up their sustainability practices—and gain some public favor, while they're at it.
But promises alone are not enough: according to a 2021 Gartner study, 90% of public sustainable packaging commitments will not be met by 2025. In practice, there is not adequate waste management infrastructure (or aftermarket demand) to absorb the sheer volume of plastic currently in circulation.
According to Our World in Data, mismanaged plastic waste is defined as "waste [that] is not formally managed and includes disposal in dumps or open, uncontrolled landfills, where it is not fully contained." While plastic footprint per capita is much higher in the Global North than in the Global South, the mismanaged waste per capita is a lot higher in nations in the Global South.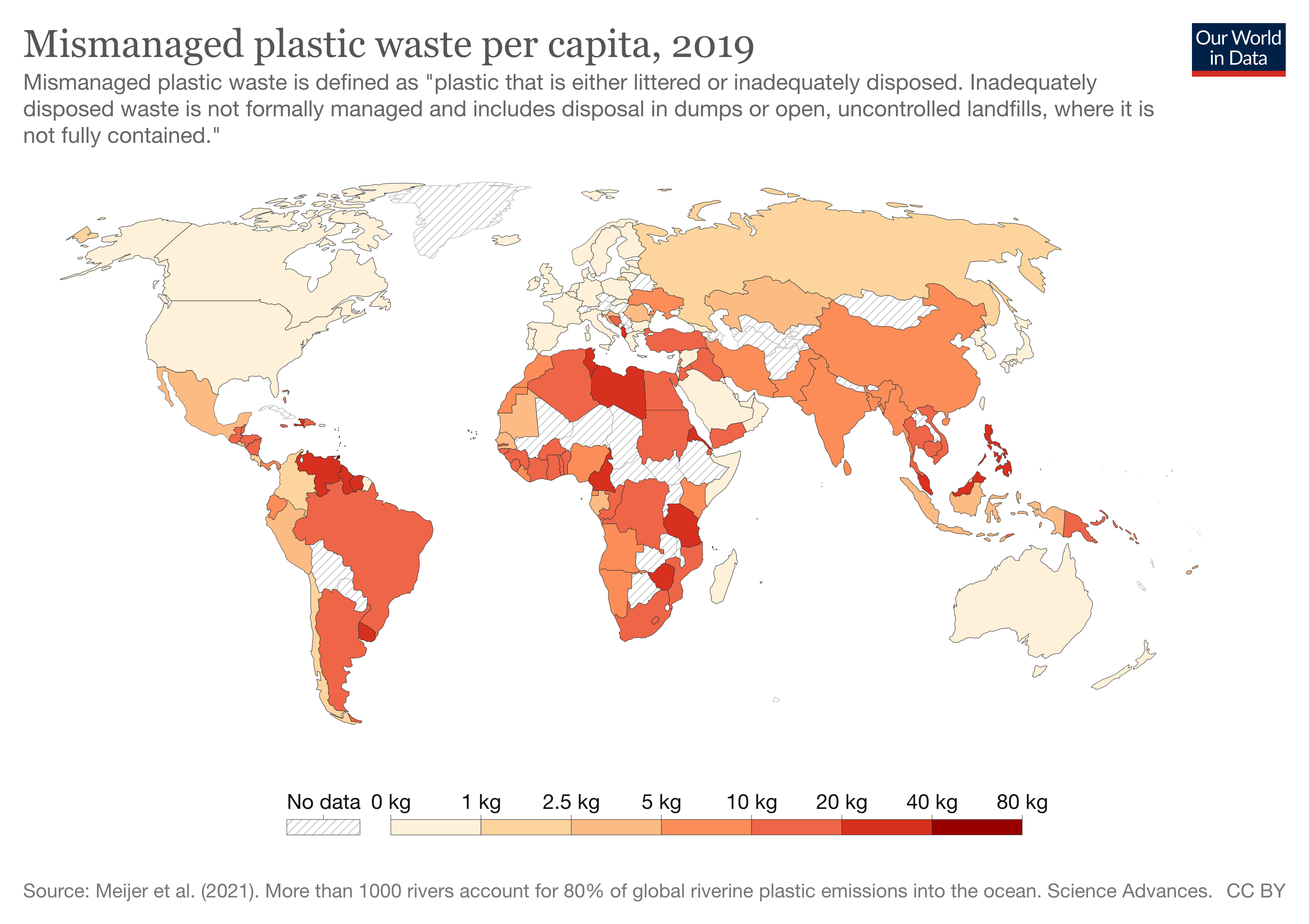 What's more, an estimated 11 million metric tons of plastics enter our ocean each year, joining about 200 million metric tons that already circulate in our marine environments. If we do not take action now, the amount of plastics entering our oceans will triple by 2040.
We're familiar with these problems and the daunting scale of transformation required to start fixing them. It's less common to hear about viable solutions, particularly when it comes to addressing the problem at the systemic level. How might we provide the necessary tools and resources to support companies who stand poised to phase down—and out—plastics?
Enabling supply chain and workforce transformation with the Plastic Reality Project
Fortunately, there are some bright minds hard at work on this challenge. In September, we partnered with second cohort Ocean Solutions Accelerator alum rePurpose Global and GreenBiz to launch a brand-new initiative, the Plastic Reality Project.
rePurpose Global is the world's leading plastic action platform, dedicated to bringing together purposeful brands, innovators, and individuals under one roof to combat the plastic pollution crisis. To date, rePurpose has supported over 10,000 "waste innovators" and their communities across 14 projects and 5 countries, implementing new waste collection systems and plastic reduction mechanisms to help divert over 14 million pounds of plastic waste away from nature and landfills every year. They have created cleaner communities, healthier ecosystems, and improved livelihoods for waste workers.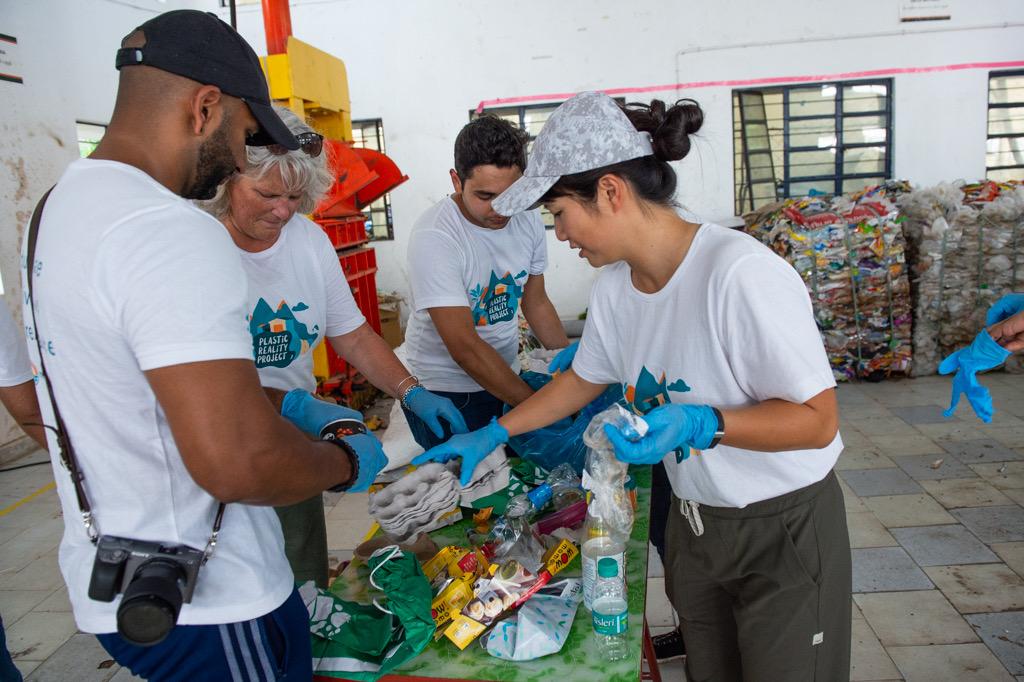 The launch of the Plastic Reality Project in September was first-of-its-kind sustainability initiative dedicated to arming corporate leaders and environmental practitioners with knowledge and experiences to help shape plastic reduction efforts. The project aims to help corporate leaders reduce inefficiencies, broaden inclusivity, and ultimately, increase impact in the fight to reduce plastics.
To help bridge the gap between ambition and action, the Plastic Reality Project aims to upskill sustainability leaders in the next five years on tackling plastic pollution through educational expeditions, corporate training programs, peer mentoring networks, and a competency-based certification scheme for individual professionals.
The plastics crisis—and new solutions—on the ground
In support of the launch of the Plastic Reality Project, SOA's Ecopreneurship & Investments Lead, Doreen Wong, travelled alongside partners rePurpose Global and GreenBiz Group to two Indian states—Tamil Nadu and Kerala. During this week-long expedition, the group explored the state of waste management in the regions, and met the workers and innovators behind it all. They were joined by leaders from organizations, including the World Economic Forum, Emerson Collective, Riverside Natural Foods, Coca-Cola, Target, and more.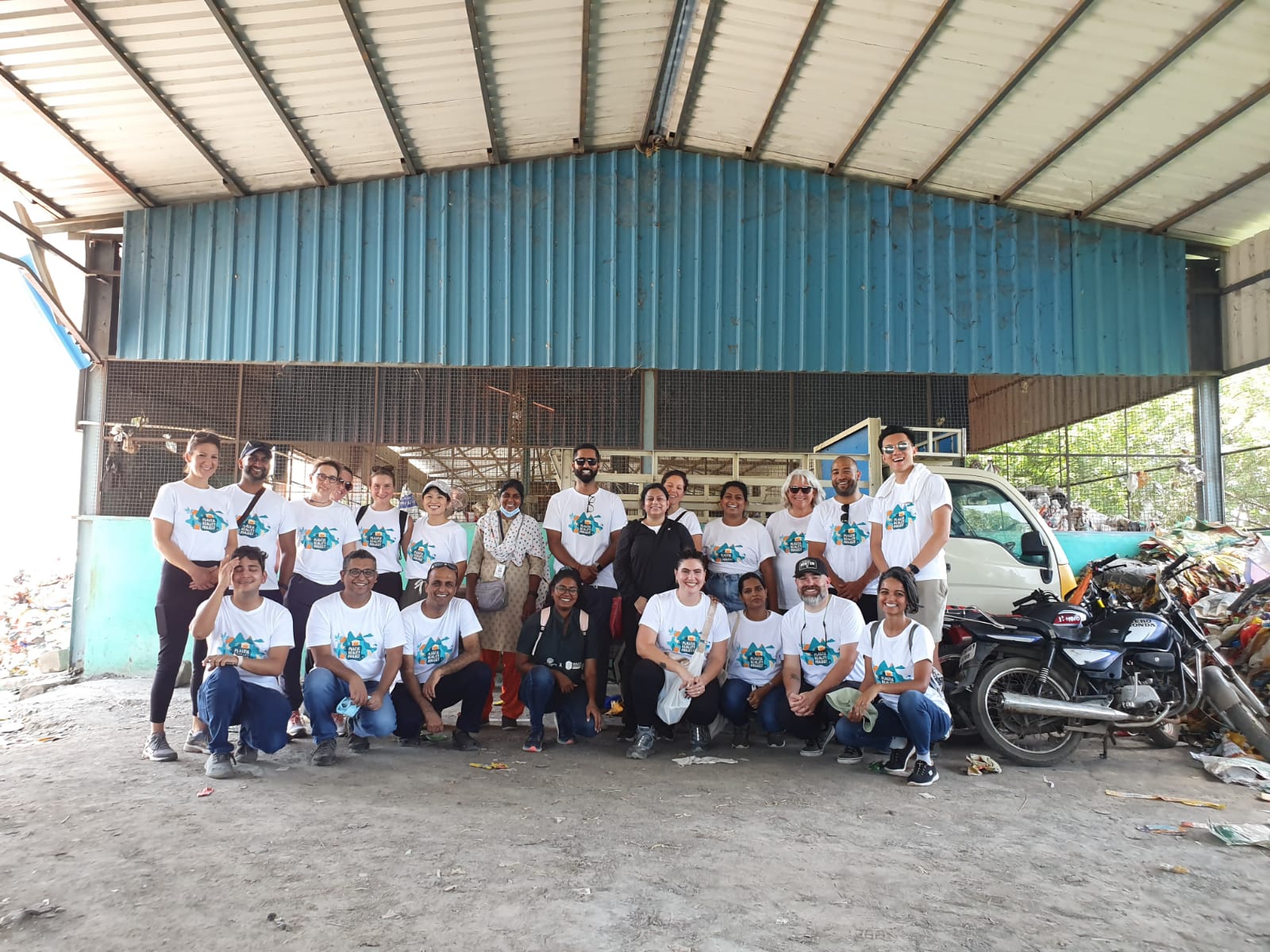 Throughout the week, participants attended waste management presentations, workshops, and site visits, meeting new faces along the way who work tirelessly behind the scenes to keep plastic processing and waste management infrastructure up and running. They learned about the complexities of waste management in the context of developing economies such as India's, witnessing the realities of nature's intersection with waste.
The disheartening reality of plastic in our nature
Doreen recounted a memorable scene where a dump truck unloaded waste on one side of the river while a man on the other side of the river was fishing for food. Further along down the river, resident water buffaloes and cows munched away on burning trash. She shared some photos below of the grim scenes: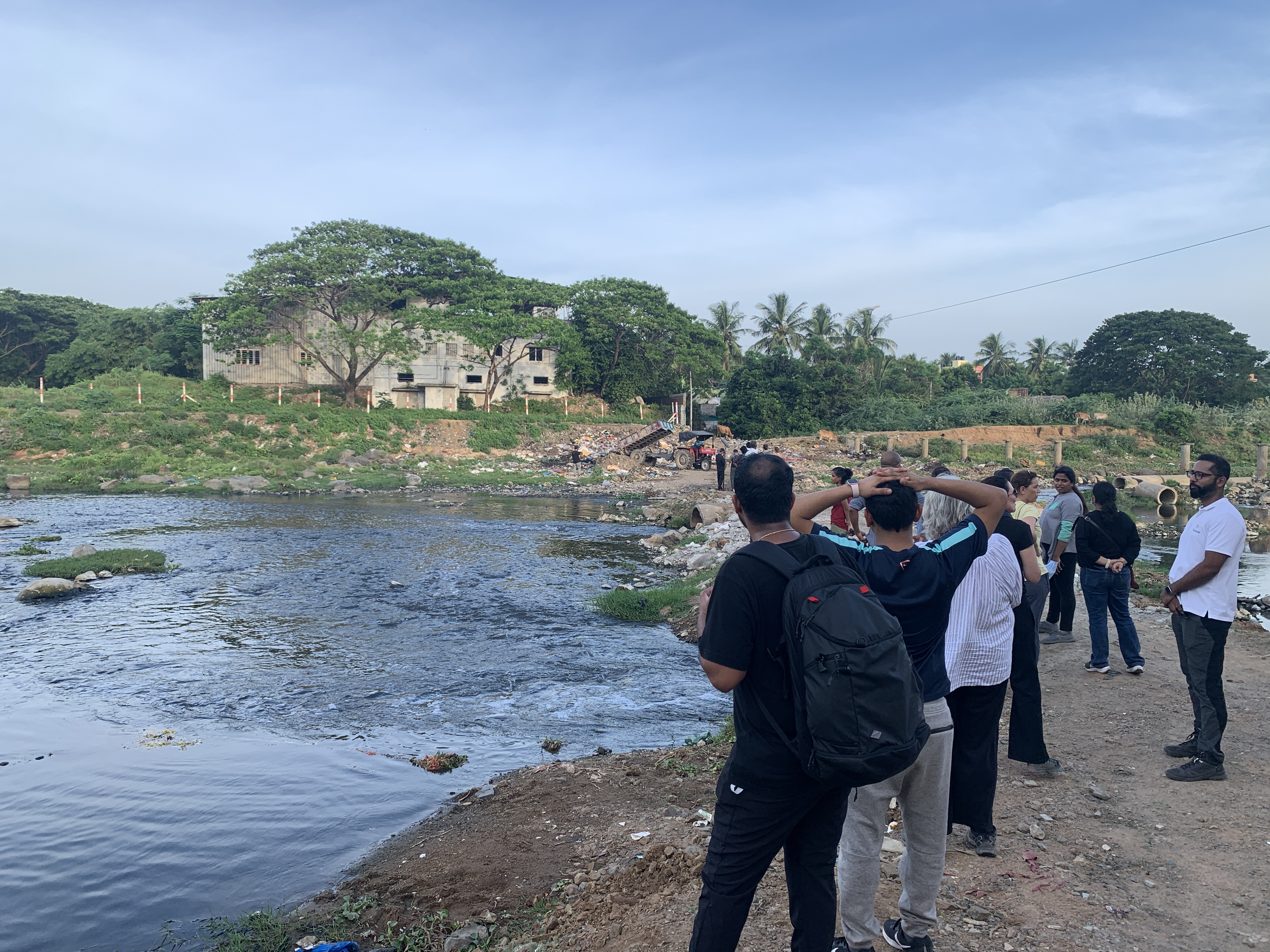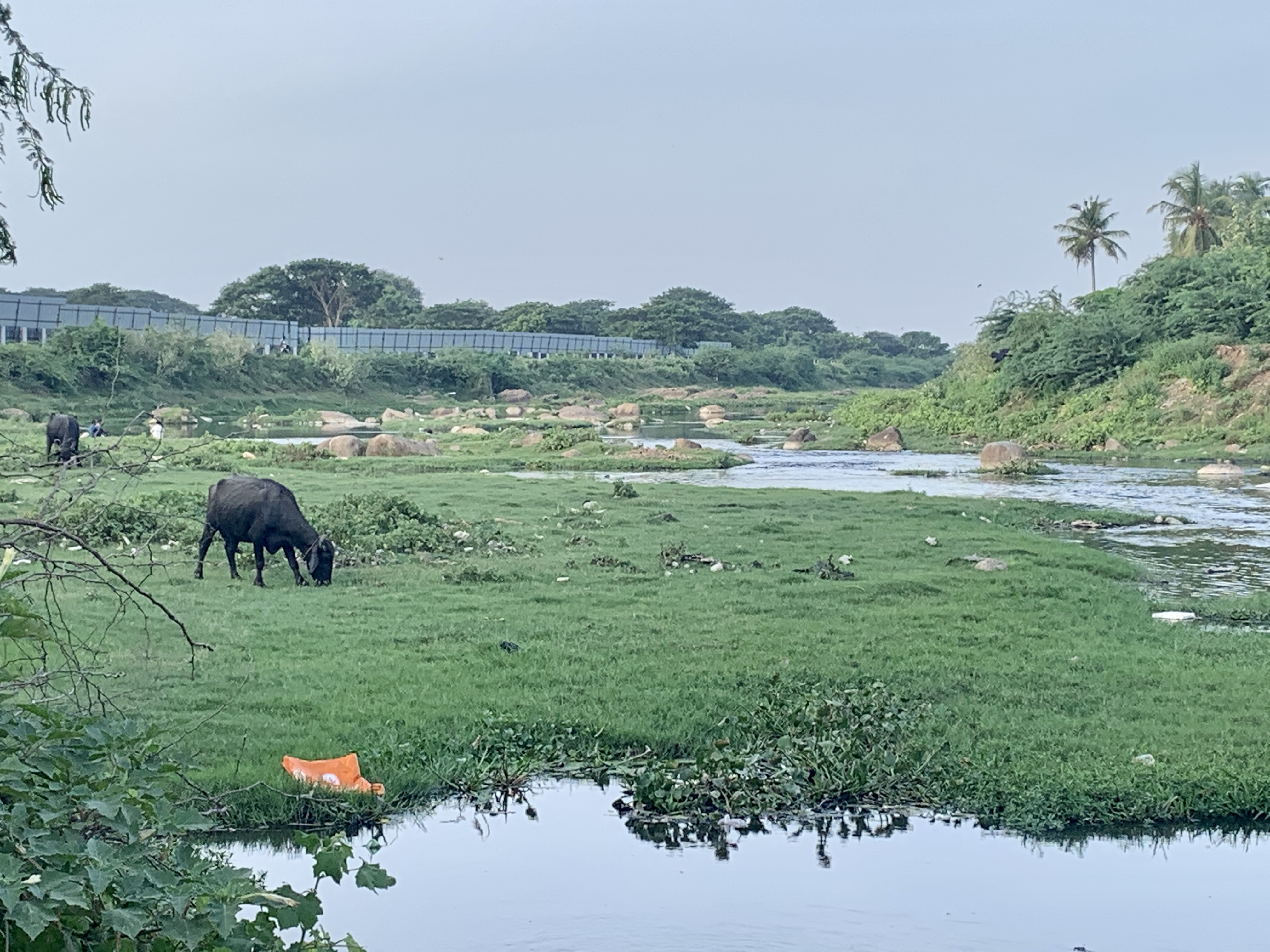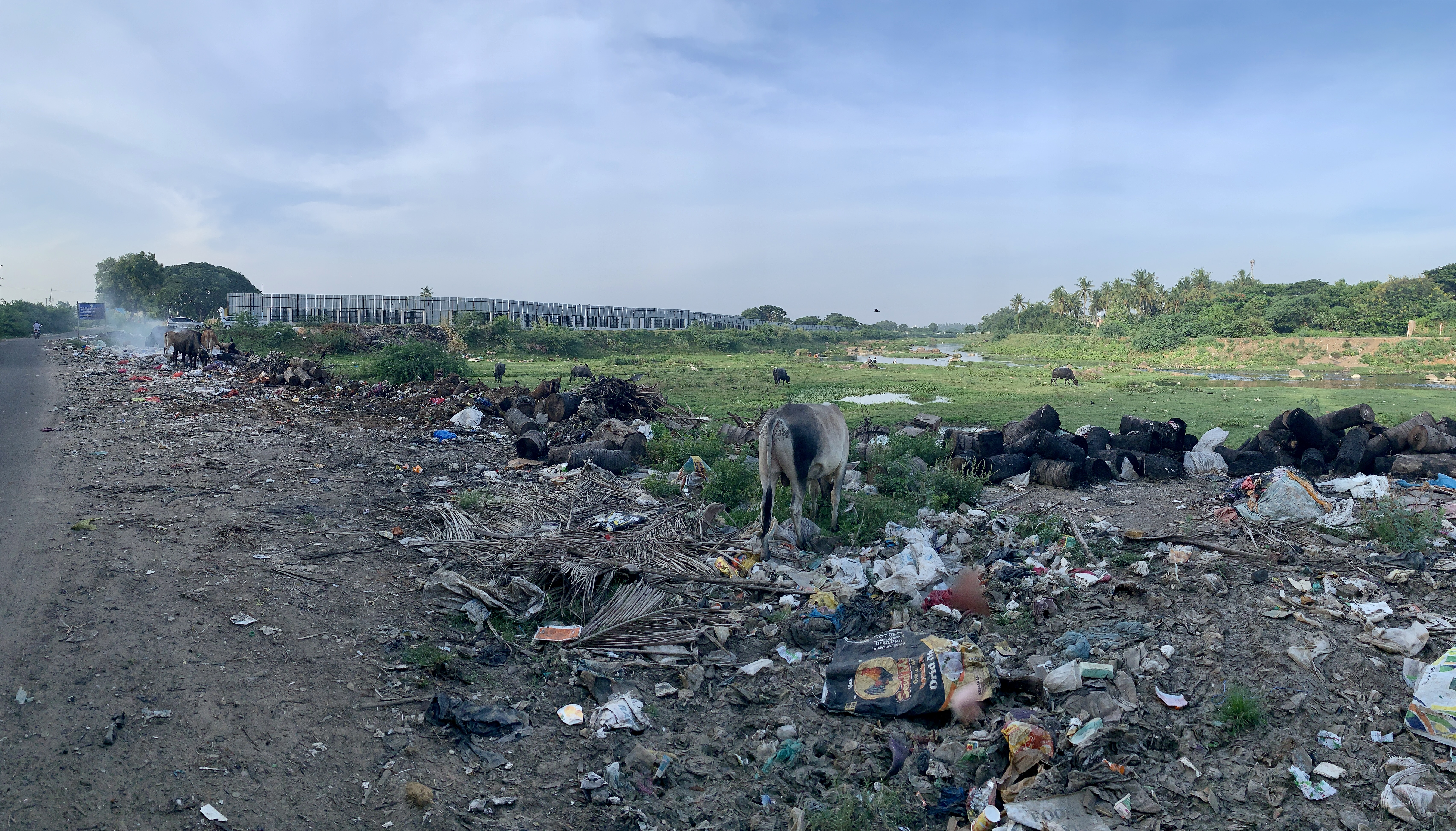 After witnessing this scene, Doreen regained a sense of hope when she visited the sites managed by rePurpose Global and its impact partners Waste Ventures India in Tamil Nadu and GreenWorms in Kerala.
These partnerships demonstrated the successes of waste collection and sorting---recovering and processing low-value, single-use plastic such as multi-layered plastic (MLP). They also demonstrated new innovative models for waste collection by catalyzing ethical collection and permanent disposal of hazardous MLP waste.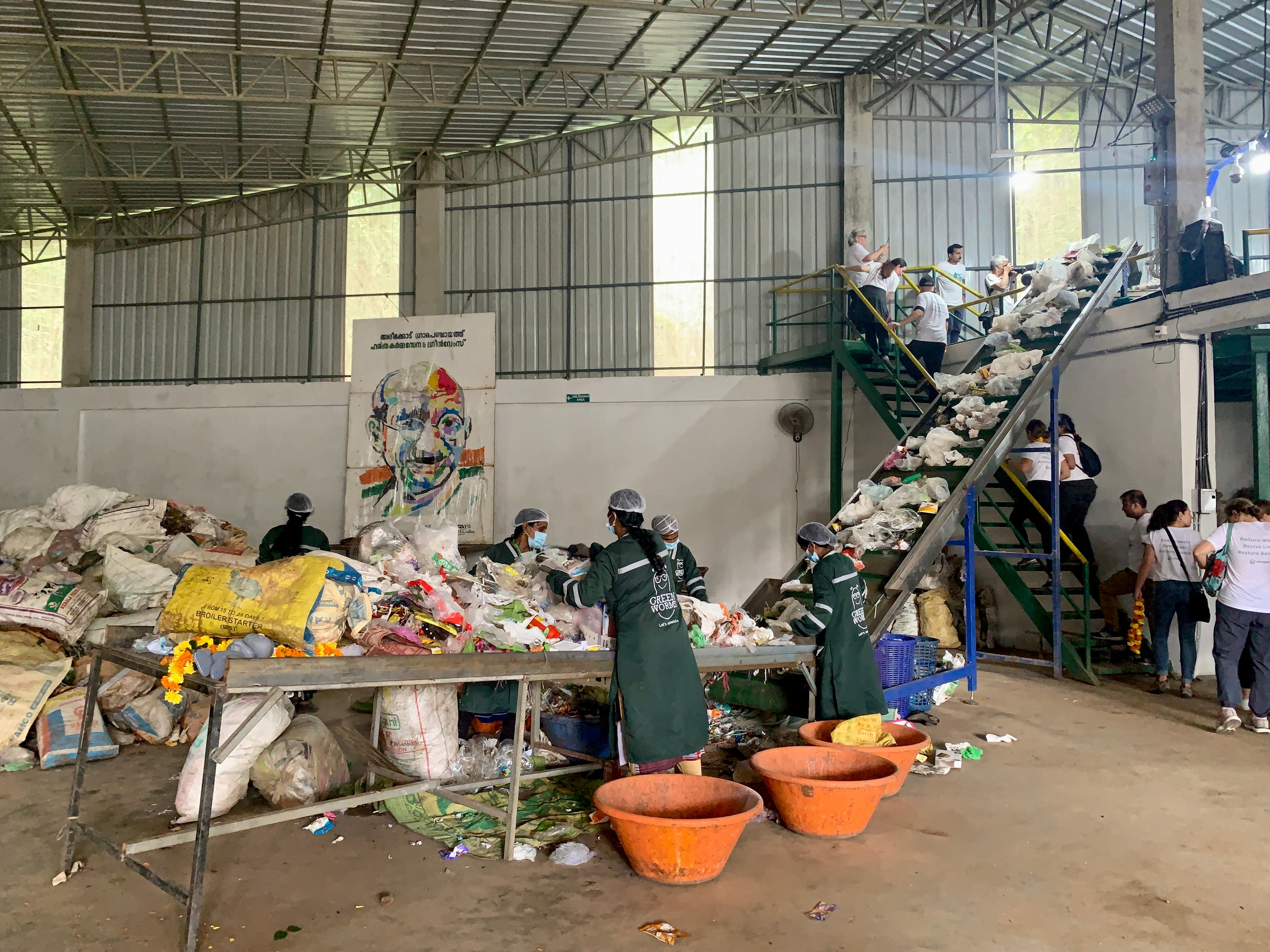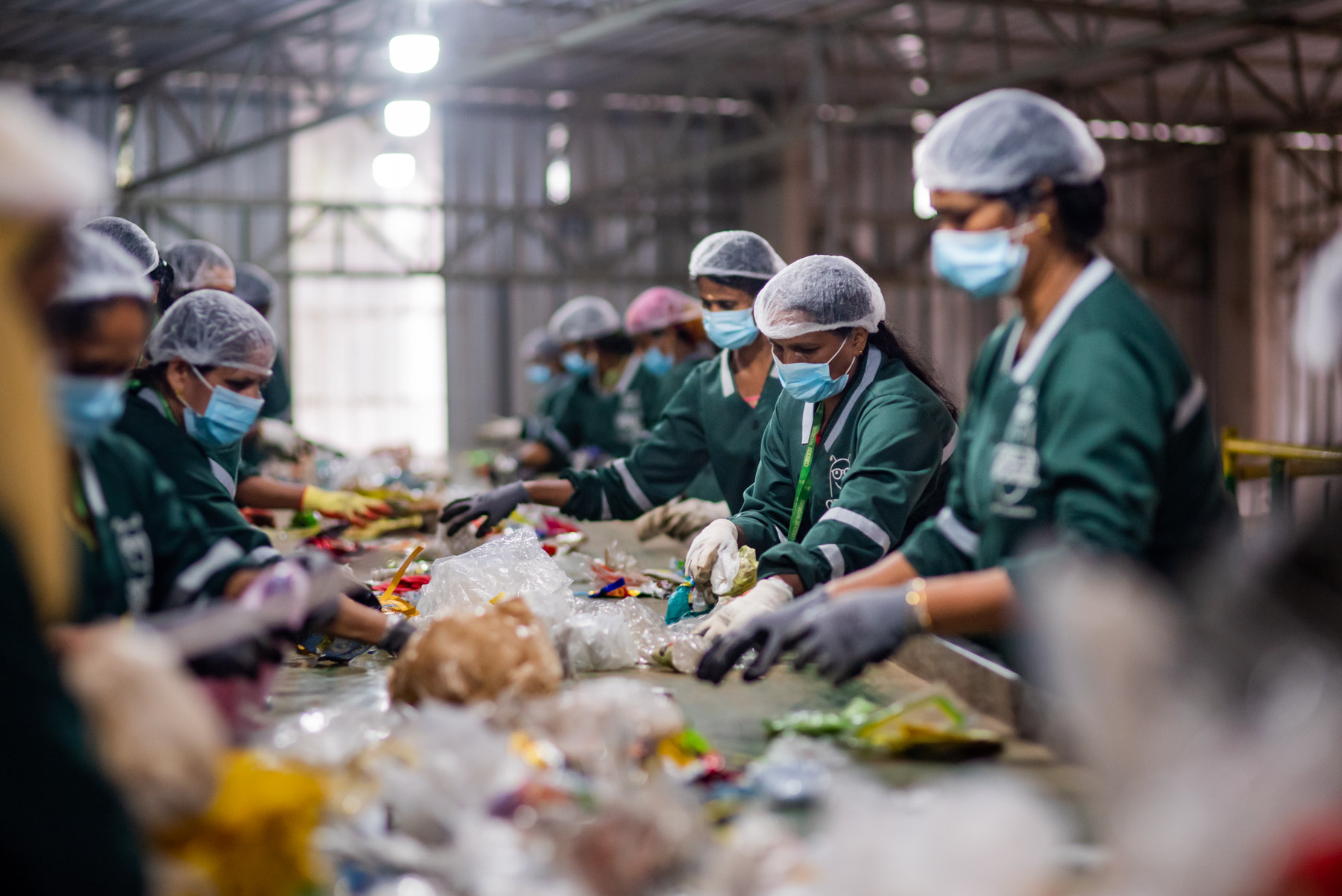 90% of the workforce at these sites is made up of women. As the women diligently picked, collected, and sorted the waste on the belt, they also showed their cultural practices and development of vital communities connected by the nature of their work. At work, they formed tight-knit, supportive communities. They sing, dance, eat, and work together.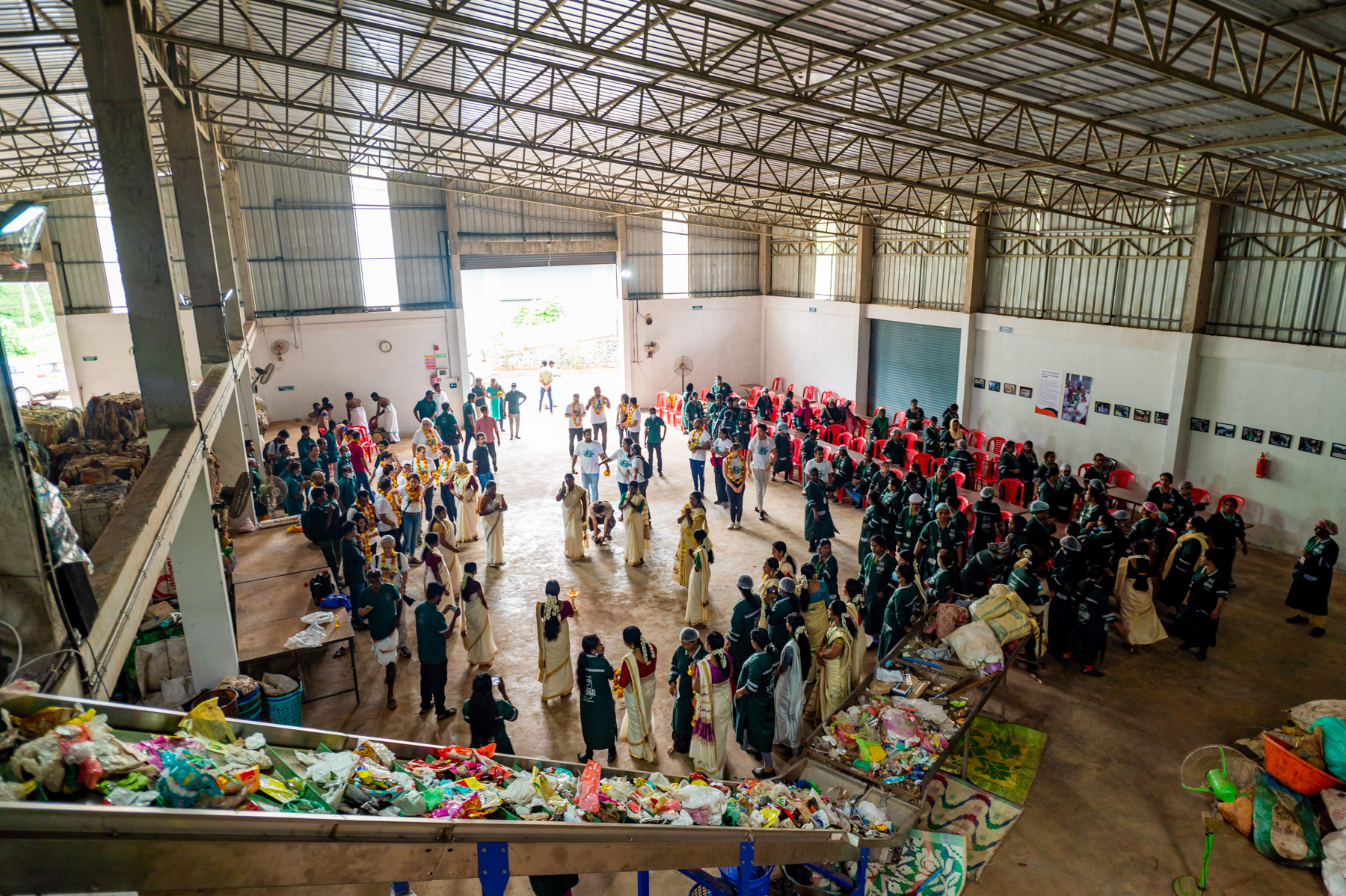 Moving forward in the fight to end plastics
As the expedition neared its end, the leaders on the Plastic Reality Project came together to reflect on the experience.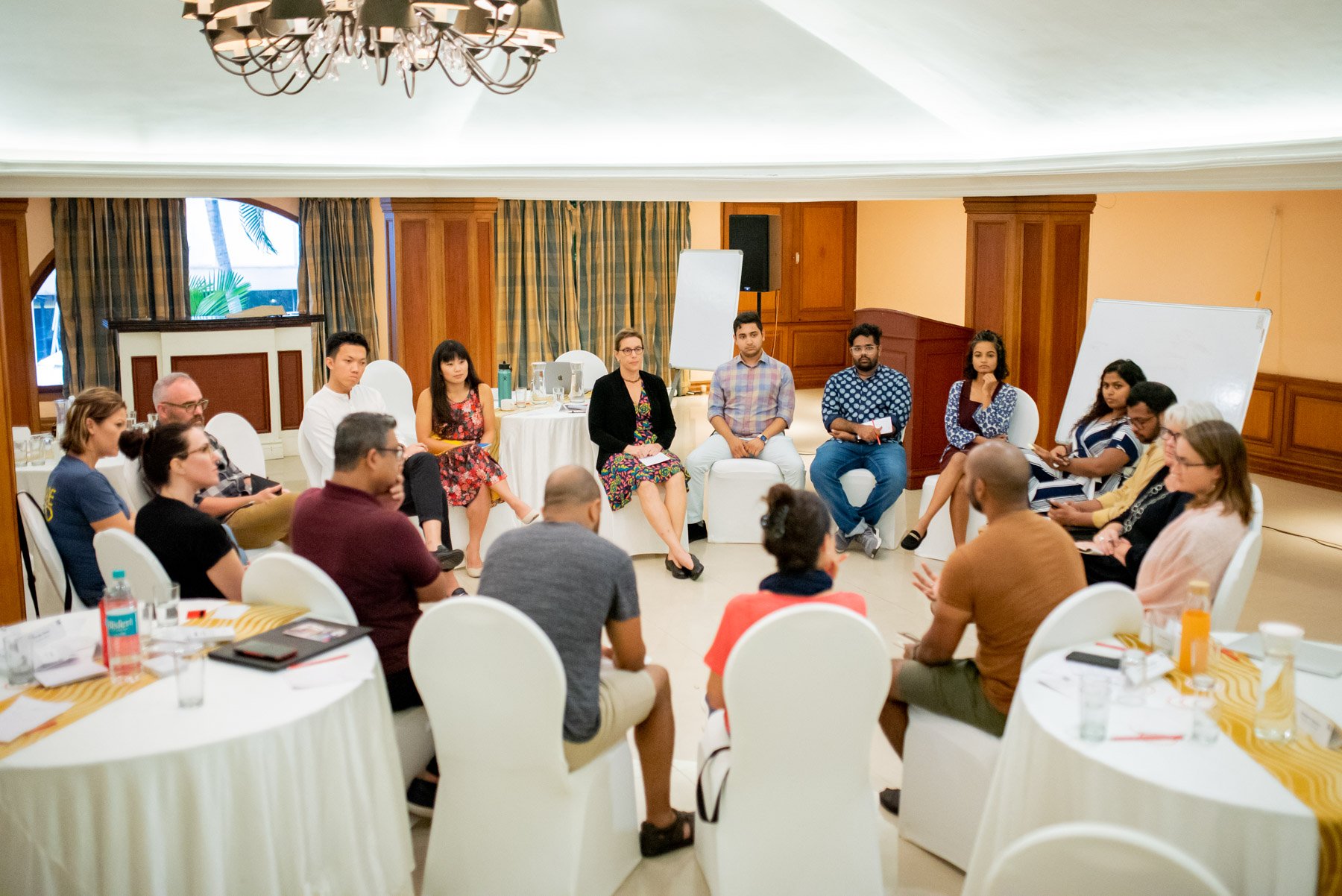 They discussed the important acceleration of action needed from the World Plastics Council and key stakeholders, including national and local governments, corporate brands, local waste management organizations, and innovative solutions, to chart the path to reach 80 percent below our business-as-usual plastic numbers by 2040 (and mitigate tripling of plastics).
Towards the conclusion of the trip, participants explored viable options for plastics reduction. One such solution, the Pew Charitable Trust and systems change organization SYSTEMIQ's "Breaking the Plastic Wave: A Comprehensive Assessment of Pathways Towards Stopping Ocean Plastic Pollution," offers a first-of-its-kind model on tackling the global plastic waste challenge. This roadmap presents a solution for how to radically reduce plastic pollution by 336 million metric tons by 2040, at a total cost of $600 billion USD. There is a comprehensive, integrated, and economically attractive pathway to greatly reduce plastic waste entering our ocean. And, policies like the UN Treaty on Plastic Pollution will be critical in enabling this solution.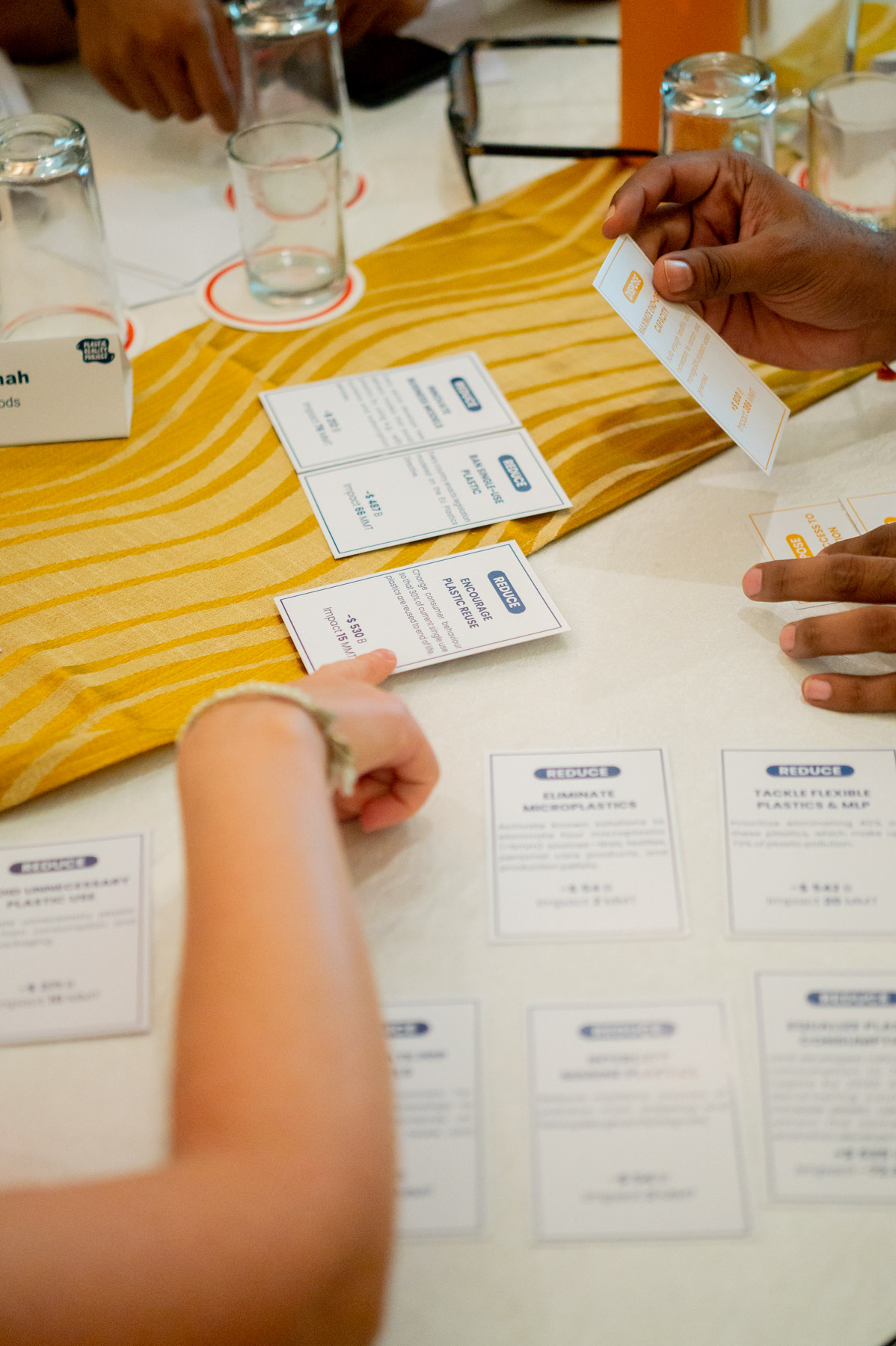 The project ending is the beginning of an impactful journey ahead
Overall, the visit was an important experience for rePurpose Global, Sustainable Ocean Alliance, GreenBiz, and the leaders from across the business and innovation world. It's not every day that these leaders can interact firsthand with the realities of waste production and waste management in a developing economy. Our key takeaways:
Value chains are complex and simple. It takes a bit of work to understand the value chain; however, once you're able to identify and work with these different components, we have the capabilities to replicate and scale a business model, thereby simplifying the value chain.

Impactful partnerships drive community change. The Plastic Reality Project demonstrated the successes in the partnerships of rePurpose Global with local organizations in different Indian states. The partnerships helped create a sustainable waste management workforce, foster communities of passionate and driven workers, and have a rippling effect on the families and local communities who are encouraged to better manage their waste.

Community-based solutions are innovative and effective. Living in a world with a multitude of cultures and languages, it is beneficial to work with local organizations that understand the culture and language. By imposing a culture or language on a community, the solutions may become ineffective and failures. The Plastic Reality Project showed that it is more effective to work with local organizations to develop and deploy new innovative solutions.

Invest in more solutions in the developing world. Those who are most impacted by climate change are the marginalized and underserved communities. According to Our World in Data, the plastic footprint in the Global North is much higher than the Global South, and wealthier nations are able to manage and/or dump their waste elsewhere. If we invest in solutions in the developing world, especially community-based solutions, we'll see greater impact.

Acceleration of action is needed from governments and corporations who are producing plastic. Worldwide, while UN Treaty on Plastic Pollution is a step forward on tackling plastic waste. We need corporations to step up even more.

It is important to treat everyone fairly and with respect to maintain a sustainable workforce. As long as we provide them the basic wages, knowledge, resources, and community to grow and develop, they are incentivized for their work.
Amplifying diverse voices and supporting crucial innovations that protect our ocean is at the core of our mission. As we look forward, Sustainable Ocean Alliance is committed to continuing support for rePurpose Global and the Plastic Reality Project—and to sharing knowledge about what we're learning along the way.