From September 17-24, tens of thousands of global leaders, political changemakers, grassroots organizers, scientists, and civil society representatives from all over the world gathered together in New York City to drive the transition, speed up progress, and champion the growing change for a sustainable future for the annual Climate Week NYC event.
Since 2009, Climate Week NYC has been hailed as the largest annual climate event of its kind, bringing together 500+ events and activities across New York in unison with the annual UN General Assembly held at the United Nations headquarters in Manhattan.
This year, Sustainable Ocean Alliance had an unwavering presence driven by the unmistakable force of our incredible startup founders, investors, mentors, grantees, regional hub leaders, and beyond. The mood was hopeful, the energy was magnetic, and importantly, youth seemed to be at its heart. Now more than ever before, it appeared that the ocean was (finally) a HUGE part of the conversation.
Day 1, September 17: The March to End Fossil Fuels
The week got off to a strong start on Sunday with the March to End Fossil Fuels that took over Manhattan with more than 75,000 people taking to the streets. Many of our hub leaders and youth leaders joined together during the march to advocate for ocean-climate action. SOA was joined by our partners at Deep Sea Conservation Coalition and The Oxygen Project to expand the focus of the protest to rally against deep-sea mining.
Day 4, September 20: A Full Day of SOA
Wednesday was full of excitement and new endeavors for SOA. From an ad in Times Square to hosting our first official in-person Ecopreneur Network event, SOA was (literally) all over the city of New York.
Morning: Class of 2023 Ecopreneur Network Announcement
At 9 a.m., the SOA team officially announced the inaugural Class of 2023 for SOA's Ecopreneur Network, featuring 11 new ocean-based startups from around the world offering a wide array of tangible impacts to benefit our ocean:
Agriloops, Alora, bound4blue, FlexSea, Ittinsect, Photon Marine, Reefgen, Stream Ocean, TONTOTON, Urchinomics, and uWare Robotics.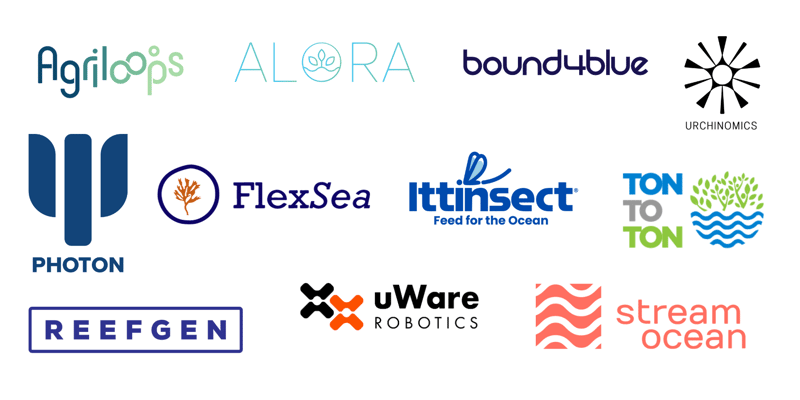 SOA Ad in Times Square
Promptly following this exciting announcement, we were met with a surprise ad for SOA displayed in Times Square right next to the TKTS steps, thanks to our new friends at HOPE Hydration.
From 12:01am to 11:59pm on Wednesday, our ad was playing every 2 1/2 minutes alongside fellow mission-driven organizations for hundreds of thousands of eyes to see.

The best part? People had the chance to interact with our ad while also refilling their own water bottles, inadvertently keeping waste out of our ocean while supporting our work as ocean champions.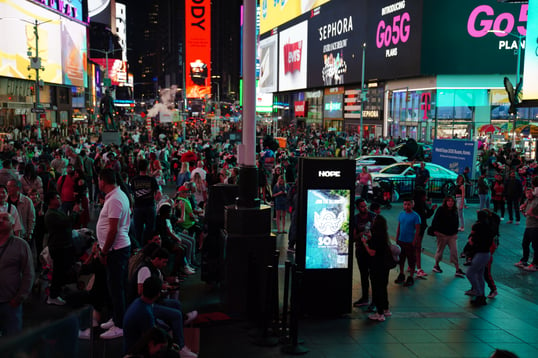 Afternoon: Rising Tides for Innovation Panel
In the afternoon, we headed to the Javits Center for our Rising Tides for Innovation panel at the Ocean Sustainability Forum, hosted by OCEEF and The Nest Climate Campus. Moderated by SOA CEO & Founder, Daniela V. Fernandez, this interactive panel featured three inspiring founders from our Ecopreneur Network: Courtney Boyd Myers of AKUA (Class of 2020), Joost den Haan of planblue (Class of 2021), and Luke Young of ALORA (Class of 2023).
Throughout the panel, these three innovators leveraged their individual expertise as founders within the ocean space to discuss the dynamic relationship of cultivating blue innovation into profits with purpose.
Evening: Investing in Ocean and Climate Solutions — An SOA Ecopreneur Network Event
To round out an already exciting day, SOA hosted our first official Ecopreneur Network event, Investing in Ocean and Climate Solutions, aboard the Cloud Nine Charter to bring together ocean investors, mentors, founders, youth, and other changemakers within our network dedicated to building the blue talent pipeline and funding existing, innovative solutions for the sustainable blue economy.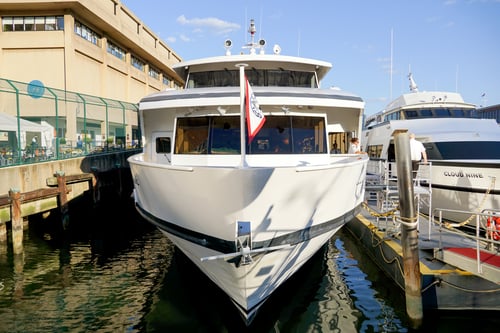 This ocean-centric gathering was set against the jaw-dropping backdrop of the New York Harbor and the East River at sunset as we sailed by iconic landmarks like the Statue of Liberty and under the Brooklyn Bridge.
The evening facilitated both conversation and collaboration amongst our network as we witnessed firsthand the power of our tireless, mission-driven work.
SOA was proud to incorporate solutions from the minds of our very own founders to produce a sustainably-focused event. Aligned with all of our shared goals and values, we worked with our ecopreneurs to minimize the gathering's footprint while showcasing some incredible solutions to effectively create a microcosm of a renewed, regenerative world aboard the vessel.
For our event photo backdrop, Cruz Foam created an innovative and dynamic display made entirely of Cruz Foam materials. For drinks, we utilized reusable cups from Muuse and seaweed straws from LOLIWARE. For dinner, menu items included AKUA's delicious vegan kelp burgers and krab cakes. For gift bags, attendees got to take home Muuse reusable stainless steel cups and an item tracker created from Oceanworks' reclaimed ocean plastic, all beautifully wrapped in Sway seaweed packaging.
And those weren't the only startups who had a presence onboard. SOA was honored to welcome more of our solutions, including the founders and representatives of Aquaai Corporation, ALORA, Blue Ocean Gear, bound4blue, B'ZEOS, Coral Vita, Current Foods, Finless Foods, Hohonu, microTERRA, Navier, OCEANIUM, Photon Marine, planblue, PlanetCare, rePurpose Global, Returnity, Seawater Solutions, and Urchinomics.
The power of having this many talented innovators under one roof cannot be understated.
Once everyone was on board, it was time to set sail.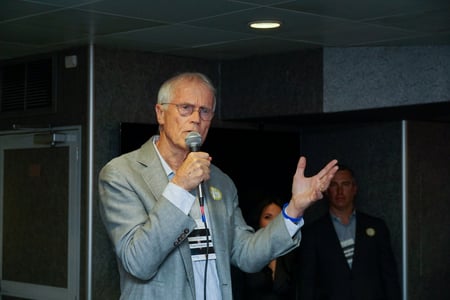 We were honored to be joined by guest speaker Erik Snyder (CEO & Founder of the Drawdown Fund) who offered humble and comedic commentary, opening remarks, and introductions, following the incredible Paul Hawken—respected environmentalist, entrepreneur, author, and activist.
Paul's words quieted the room as he left us all moved by his unique insight into the ocean world with hopeful notes for the future. "If we look at the world in a different way and look at what it can teach us about where we live and how it works, the possibilities are extraordinary."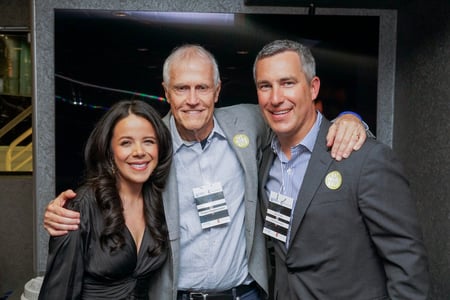 Then we heard from SOA CEO & Founder, Daniela V. Fernandez, who shared her personal story as a founder with an emphasis on the importance of investing in our future as she painted an inspiring picture not far into the future of a renewed, regenerative world powered by SOA solutions.
"There are so many opportunities out there and there are so many solutions that exist, we just need to get to the point of scaling them... Now it is our opportunity to believe in them and to really help them scale so we can have a better world for all of us to live in."
Following these moving remarks, a few lucky attendees were surprised with randomly selected prizes from our solution companies, including the opportunity to take a tour on the boat of the future with Navier's electric hydrofoil boat and a visit to Coral Vita's coral lab facility in the Bahamas.
After all the excitement, it was time for the party to truly begin. Our guests enjoyed the opportunity to network across sectors and industries, meet the incredible people behind our ocean startups, take in the breathtaking evening views of the New York Harbor, and transport into an immersive experience that can only be explained as an ocean-inspired underwater ecosystem where guests could watch videos with augmented reality goggles while listening to whale songs. It was truly a sight to be seen.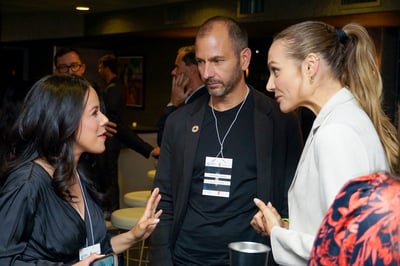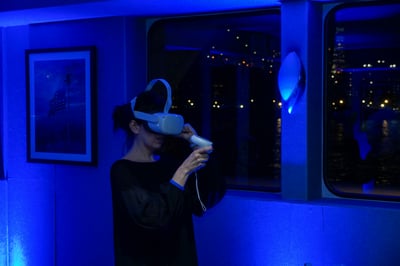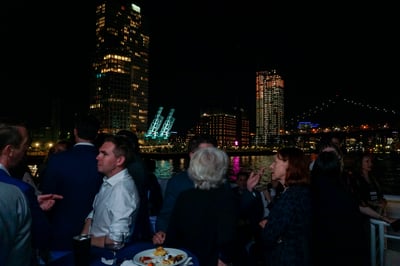 As our guests disembarked, we left the Cloud Nine Charter with feelings of gratitude, inspiration, motivation, and above all, hope. Hope for our future, our ocean, and humanity itself. Together, we are creating ripples of change in real-time. It was a true honor to host such incredible people in one space for a night of ocean celebration. Thank you to all who joined us and to those who made this event possible. View the official image gallery from SOA's Ecopreneur Network Event here!
Progress Towards a Sustainable Future
Overall, this year's Climate Week NYC was full of promising climate action, exciting events and panels, and new commitments across industries that further prove to us that there is tangible change underway to address the climate crisis. But, this fight is only just beginning. As a global society, we must move swiftly, efficiently, and with cross-sector, intergenerational collaboration in order to truly solve the challenges before us.
How can we achieve this?
1. Invest Time, Capital, and Energy into Current and Future Generations. Young people have vast ideas and solutions to solve the climate crisis but often lack resources, education, mentorship, and funding. If we provide these necessary resources to these young people, positive change can and will occur.
2. Invest in and Scale Nature-Based Solutions. By funneling capital into growing nature-based solutions on a global scale, we can spur innovation, create new job opportunities, mitigate global health risks, ensure energy independence, and address the global challenges of climate change.
3. Divest and Transition from a Fossil Fuel-Based Society. Every day that we continue to prioritize the use of fossil fuels over renewable energy solutions, we simultaneously take steps away from a sustainable future. By divesting from this destructive industry, we gain economic resilience, improve public and environmental health, advance social equality, and above all, ensure a secure a healthy future for current and future generations.
4. Engage with Civil Society. Facilitating intergenerational dialogue within civil society, especially within Indigenous communities, can accelerate change from the bottom → up. Working within local communities on the frontlines of climate change provides diverse perspectives with local knowledge while galvanizing climate action.
5. Restore Critical Species & Ecosystems. The ocean is the planet's largest carbon sink, absorbing 30% of all carbon dioxide emissions and capturing 90% of the excess heat generated by these emissions. As our planet's greatest defense against climate change, it is crucial that we protect, conserve, and restore marine and coastal ecosystems to safeguard our future.
Until next year...
---
SOA would like to extend our sincere gratitude and appreciation to the following supporters of SOA's Event, Investing in Ocean and Climate Solutions:
Event Sponsors: Drawdown Fund, Builder's Vision, and Coleman Family Ventures
Event Support Team: Carl Navarro and Denise Kozlowski at Spotlight Media Live & Particle. Marketing
Event Speakers: Erik Snyder (Drawdown Fund) & Paul Hawken (Project Regeneration)
SOA Dream Team Staff Members
Cruz Foam, AKUA, Muuse, LOLIWARE, Sway, & Oceanworks for contributing their products and services to the event