About the Fellowship
Sustainable Ocean Alliance and Environmental Defense Fund offer a yearlong Fellowship to early-career entrepreneurs and organizations working on projects anywhere in the world that benefit fisheries and promote their ecological, socioeconomic, and community resilience to climate change.
Fellows receive a grant funding and special access to mentorship and online courses to develop new leadership and technical skills. Through the fellowship, SOA and EDF aim to build an ecosystem of fisheries-focused leaders who increase resilience to the effects climate change.
Read about past fellowship recipients here.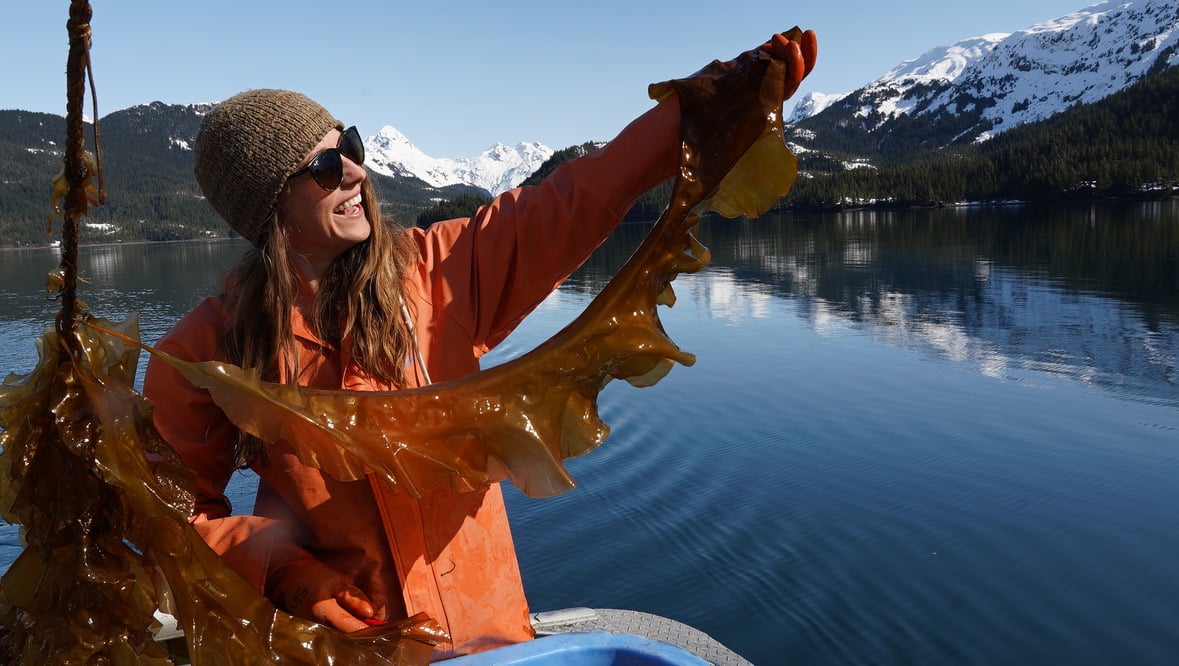 Photo credit: Noble Ocean Farms (2022 Fellowship recipient)
Through this program, fellows gain:
A shared understanding of the impacts of climate change on fisheries and how to identify and advance solutions for greater resilience
Advancements in their climate-resilient fisheries projects, grounded in a strong set of performance indicators that provide metrics around sustainability and resilience
A stronger foundation of technical and leadership skills
Since 2021, 19 fellows in 7 countries have been supported. 2021 fellows were based in Southeast Asia and 2022 fellows worked in US fisheries. The 2023 Fellowship has no geographic restriction.
2023 Program Details
For the third consecutive year, Sustainable Ocean Alliance (SOA) and the Environmental Defense Fund's Climate-Resilient Fisheries & Oceans team are seeking proposals from early-career changemakers to receive a financial grant and 1:1 mentorship, to propel solutions that advance climate-resilient fisheries and fishing communities. While previous programs were geographically focused, the 2023 program will invite a global cohort.
Applications open on March 1, 2023
Successful applicants:
Are 18-36 years old and/or possess

fewer

than 10 years of relevant experience (this Fellowship is for early-career professionals)
Are affiliated with an organization
Are proficient in written and spoken English
Commit to accomplishing and reporting on project deliverables by May 1, 2024
Commit to attending 4 virtual workshops in June, September, December and March (2024).
Request $5,000 USD or less
Program Dates:
June 1, 2023 to June 1, 2024
December 2023: Progress Report
May 2024: Final Report
Fellows are expected to participate in at least four virtual workshops (specific dates TBD):

June 2023: Kickoff and intro to climate-resilient fisheries principles
September 2023: Alignment, connection, troubleshooting
December 2023: Alignment, connection, troubleshooting
March 2024: Closing and shared commitments
Fellows Receive:
A stronger foundation of technical and leadership skills through mentorship, skill building workshops, and online resources from the EDF Fishery Solutions Center
A common understanding of the impacts of climate change on fisheries and best practices to identify and advance solutions for greater resilience
Advancements in their climate-resilient fisheries projects, grounded in a strong set of performance indicators that provide guiding metrics around sustainability and resilience
1:1 Mentorship by request from EDF fisheries experts and SOA mentors
The opportunity to network and build connections with changemakers around the world
Fellowship goals:
Build the technical and leadership capacity of project leaders
Foster a common understanding of the impacts of climate change on fisheries, and help grantees identify solutions to advance solutions for greater resilience both collectively and within their individual projects
Develop and track key performance indicators of sustainability; for example: volume of catch benefitted by the project, percentage of fleet or sector using low-impact gear, square mileage of fisheries covered
Develop and track key performance indicators of resilience; for example: number of new jobs created for community members, number of people engaged through media, number of new stakeholder groups engaged, uptake of novel solutions and support by multiple stakeholder groups, frequency of data collection and responsive decision making, amount of seafood consumed locally, or a change in the distribution of fishery benefits supporting greater equity
Create lasting connection, collaboration and community as a global cohort