Event Schedule
Our events are fully virtual and open to all. They will take place either on Zoom—please register in advance at the links below—or on IG Live.
NOTE: This event has now passed. Please sign up here to stay updated about future event series with SOA.
---
07 JUNE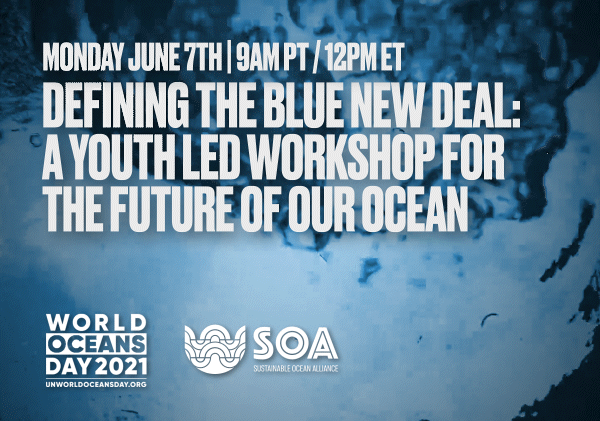 Defining the Blue New Deal: A Workshop for the Future of Our Ocean
Date: Monday June 7th
Time: 9AM PT / 12PM ET
Speakers:
Marina Porto & Jeremy Raguian from SOA's Youth Policy Advisory Council
Details: In this workshop, the Sustainable Ocean Alliance's Youth Policy Advisory Council is unveiling the framework and learning behind the Blue New Deal, a groundbreaking set of ocean policy priorities crowd-sourced from youth across the world.
Registration: https://bit.ly/3uLoSOY
10 JUNE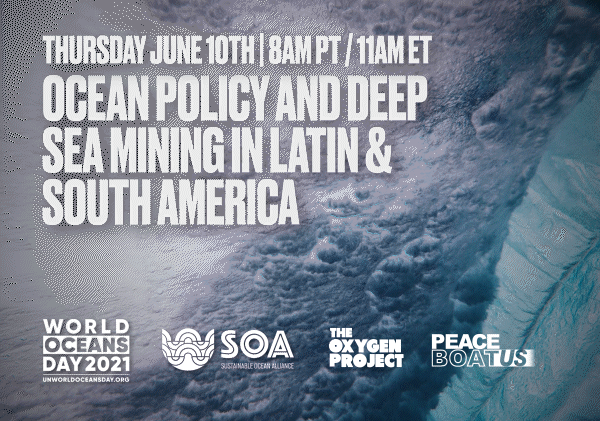 Ocean Policy and Deep Sea Mining in Latin and South America /
La política oceánica y la minería de los fondos marinos en Latinoamérica y Sudamérica (Event in Spanish)
Date: Thursday June 10th
Time: 8AM PT / 11AM ET
Speakers:
Michelle Bachelet - High Commissioner of Human Rights in Chile, President of Chile, 2006-2010, 2014-2018
Max Bello - International Policy Expert, Mission Blue
Daniel Cáceres Bartra- Latin American Representative, SOA Peru
Roberto Cerda — Co-Founder, Restore Coral
Emilie McGlone — Director, Peace Boat US
Michelle Graco — Chemistry Oceanography Associate, OA Alliance
Valeria Hinojosa - Sustainability Activist, The Oxygen Project

Details: This in-depth collaborative session with The Oxygen Project, Peace Boat US, SOA Hispanoamerica highlights perspectives on critical ocean policy and deep sea mining activities and their impact on Latin and South American communities.

Registration: https://bit.ly/3h6CEbc
15 JUNE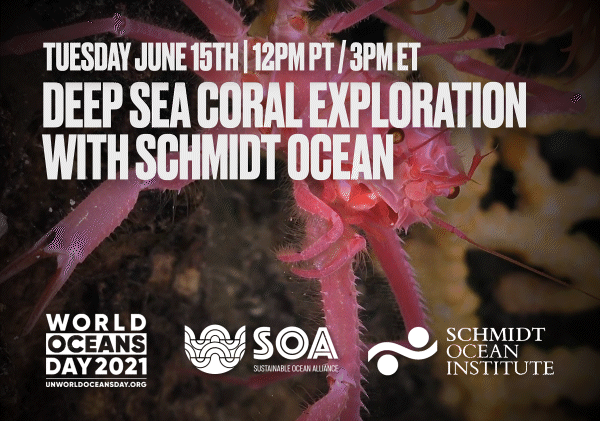 Deep Sea Coral Exploration with Schmidt Ocean
Date: Tuesday June 15th
Time: 12PM PT / 3PM ET
Details: Join us as Schmidt Ocean gives us an exclusive LIVE footage and sneak peek into their upcoming expedition in Samoa to the Phoenix Islands a UNESCO World Heritage site and marine protected area where they will be studying deep-sea corals. We will be streaming this LIVE from the captains deck on their research vessel Falkor which will return under Chief Scientist Randi Rotjan and have deep-sea samples ready to share with our audience as well as a tour of their ship, deep-sea rovers and marine wet-labs on-board.
Speakers:
Opening Keynote: Daniela Fernandez, CEO & Founder - Sustainable Ocean Alliance

Introduction: Carlie Weiner, Director of Communications - Schmidt Ocean

Tour of Falkor Ship and Laboratories: Randi Rotjan, Chief Scientist - Schmidt Ocean

LIVE Q&A
Registration: https://bit.ly/3uryuhM
IG Live Schedule
08 JUNE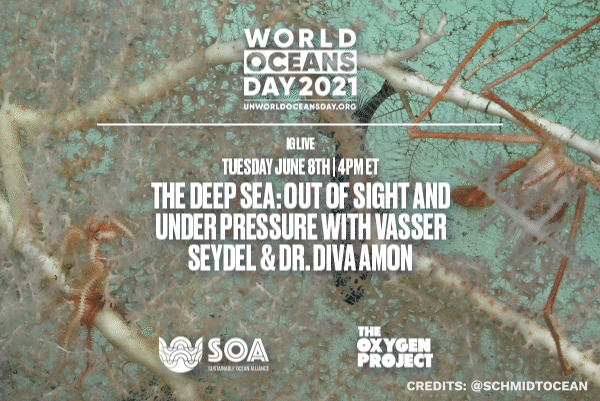 IG LIVE: The Deep Sea: Out of Sight and Under Pressure with Vasser Seydel and Dr. Diva Amon
Time: 1PM PT / 4PM ET
Speakers:
Dr. Diva Amon @SOAlliance
Vasser Seydel @TheOxygenProj
Event Details: The #defendthedeep campaign highlights the incredible biodiversity that has been discovered in the deep sea over recent years, showcases its critical role in the broader ocean ecosystem, and draws attention to the impending threats that deep-seabed mining poses to biodiversity, the ocean, and the planet. Dr. Diva Amon will join Vasser Seydel from The Oxygen Project to discuss recent mining activities in the deep-sea and explore what that could mean for the future of our ocean.
09 JUNE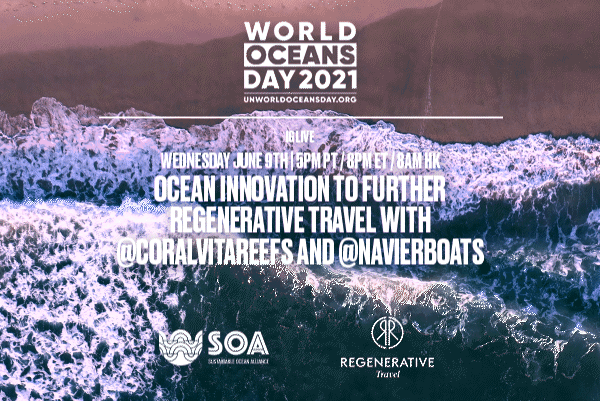 IG LIVE: Ocean Innovation To Further Regenerative Travel
Date: Wednesday June 9th
Time: 5pm PT / 8pm ET / 8am HK time
Speakers:
Daniela Fernandez @SOAlliance
Amanda Ho @RegenerativeTravel
Sam Teicher @CoralVitaReefs
Sampriti Bhattacharyya @NavierBoat
Description: The founders of the Sustainable Ocean Alliance and @RegenerativeTravel will meet to discuss the importance of innovation in the ocean space and how it's related to the impacts of the travel industry. They'll be joined by SOA Startups, who will share their current and recent projects in this field.
11 JUNE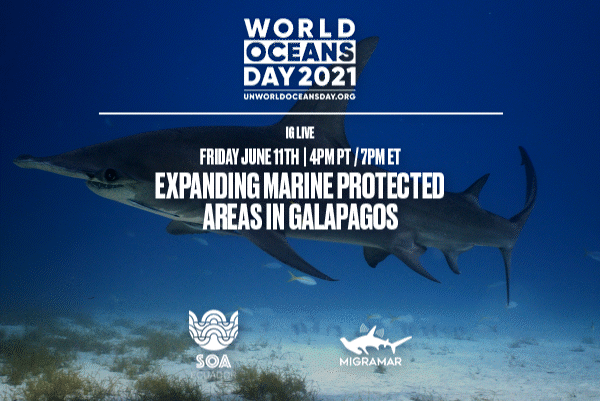 Expanding Marine Protected Areas in Galapagos / Ampliación de las áreas marinas protegidas en Galápagos
Time: 4PM PT / 7PM ET
Speakers:
Daniel Cáceres Bartra— @SOAlliance
Janice Marquez de la Plata— @SOA_Ecuador
Cesar Peñarrieta Migramar— @Migramarnet
Details: The political and economic limits of our oceans are changing. Would there be broader benefits with stricter protections? Let's discuss the benefits of expanding MPA' s in The Galapagos.