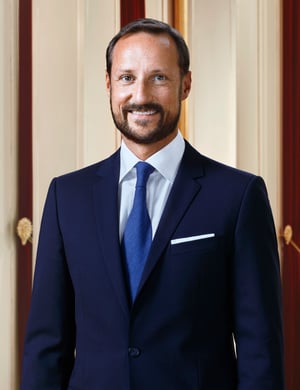 Crown Prince Haakon is the heir to the Norwegian throne and has a broad range of national and international engagements. Youth leadership, the environment and global development are issues close to his heart, with the ocean as a special priority.
Crown Prince Haakon has a keen interest in how innovation and entrepreneurship can contribute to move the world forward. Since 2003, the Crown Prince has been Goodwill Ambassador for UNDP. In this role he is currently focusing on the Sustainable Development Goals, with particular focus on SDG #1 regarding fighting extreme poverty, and SDG #14 regarding life in the oceans.
The Crown Prince holds a Bachelor in Political Science from the UC Berkeley, a Masters in Development Studies from LSE, and has studied Law at the University of Oslo. He graduated from the Royal Norwegian Naval Academy in 1995 and holds the rank of General in the Norwegian Army and Air Force, and Admiral in the Royal Norwegian Navy.
Crown Prince Haakon is a passionate surfer and music lover. He enjoys skiing, especially the traditional 'Telemark' style. He also does kiting, both on skies and on water. Crown Prince Haakon and Crown Princess Mette-Marit have an active family life and spend a great deal of time with their children enjoying outdoor activities.