Spotlight: Patrick Cage, 27, California, United States
As an integral part of the Our Ocean Conference, Sustainable Ocean Alliance and the University of Tromsø will co-host in cooperation with the Norwegian Ministry of Foreign Affairs, the fourth Our Ocean Youth Leadership Summit, which will take place in Oslo, Norway in just 45 days. The summit is an opportunity to inspire, inform, and empower youth participants to build holistic solutions that better balance the needs of society, industry and the ocean environment.

And speaking of inspiration, we are thrilled to introduce you to another inspiring young ocean leader, Patrick Cage.

---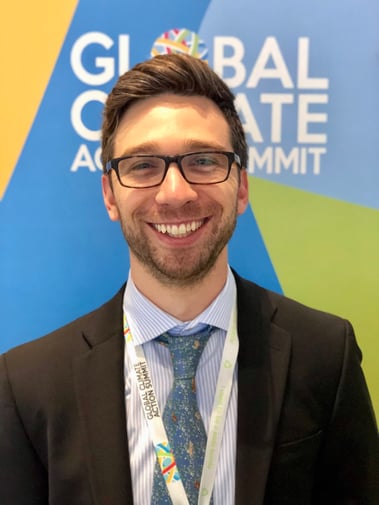 Tell us a little bit more about yourself and the work you are doing in your community to help protect the ocean?
I am an environmental scientist with a background in greenhouse gas emissions quantification and environmental markets. Kelp and other marine plants play a key role in creating a stable climate and healthy oceans. I am launching Fathom Sustainability to advance these seaweed solutions and this fall I am beginning the Coastal Science and Policy program at the University of California Santa Cruz with a cohort of international ocean leaders to help protect our oceans.

I am launching Fathom Sustainability to advance these seaweed solutions and this fall I will be attending UC Santa Cruz' Coastal Science and Policy program.

After graduating from college, I attended the Paris Agreement negotiations and witnessed the global community's impulse in tackling climate change collectively. This inspired me to work in climate change policy for over four years, travel internationally to learn more about Indonesia, China, and Cameroon and live in the Caribbean for the first half of 2019.

Most of my work is focused on how forests and other landscapes can draw down carbon. When I discovered the potential of undersea forests to mitigate climate change, I knew I had found my calling.
What inspired you to get involved in ocean health?
We talk a lot about the impacts of climate change on our oceans and yet we have not discovered many concrete climate solutions for the oceans, especially safe, nature-based solutions. Kelp and other marine plants can create solutions for the oceans and from the oceans. Plus, farming the oceans creates jobs, restores habitat, and uses no fresh water, no land, no fertilizers or pesticides. When you have that many wins together, it's hard not to be inspired!
Why do you believe your ocean project is especially impactful?
Ocean plants reverse climate change and ocean acidification.

Using advanced yields, kelp farms the size of France could draw down carbon equal to all greenhouse gas emissions from the 28 European Union countries. Even average yields have incredible potential: kelp is one of the fastest-growing plants on Earth and grows year after year. Because kelp is a nature-based solution, evolution has already given us 99% of the technology. Once we innovate the right farming systems, kelp cultivation can be deployed rapidly to help cut global emissions in half by 2030.

As kelp draws down carbon, it also fights ocean acidification. During photosynthesis, kelp absorbs the aquatic carbon dioxide that causes ocean acidification, raising the alkalinity of seawater and providing essential refuge for vulnerable species.

Forty-three percent of the world's countries have more territorial ocean than land. Yet only a tiny fraction of the ocean is farmed, and most seaweed products are harvested. With over 15,000 species of seaweed, there is not just one single solution, but many specific solutions that can be designed using specific seaweeds, cultivation methods, and applications.
What does being a young ocean leader mean to you?
Being a young ocean leader means confidently stepping up to the task of restoring our oceans. It means being creative and challenging conventional thinking while learning from our ocean elders.

We are the first generation whose lives are defined by the combined impacts of overfishing, ocean acidification, warming seas, and plastic pollution. It's easy to get discouraged or apathetic. But to win against these challenges, we need to be relentlessly optimistic and collaborative.

We have to believe in making the impossible possible so that we can fulfill the dream of a sustainable, balanced ocean. We are more awake and better coordinated than ever before. We can and will create solutions to stop and reverse these challenges. We just need to work together and lead the charge.
Where do you see yourself and your work in five years?
In 5 years, I see myself on the platform of the world's first autonomous, open ocean seaweed farm, "anchored" by buoyancy and drifting planktonically along carefully mapped currents. I see a fleet of autonomous boat harvests and processes the kelp while submersible drones replant lines from the hatchery platform. Underwater, rockfish feed and scurry. Is that shadow a drone or a dolphin? The kelp waves in the undulating current.

Our kelp is supplying Loliware and other companies making value-added seaweed products, while the remaining biomass produces fertilizers, feeds, and fuel en masse to cut global emissions. Our nearshore seaweed farms support shellfish farmers by buffering against acidic oceans and protect fish by reducing nutrient pollution to prevent algal blooms. Governments have acknowledged the need for drawdown beyond carbon neutral, and our farms are delivering low-cost, nature-based negative emissions to stabilize the climate. Meanwhile, we are supporting smallholders in coastal regions with affordable cultivation and market-access solutions. In five years, we are on track to win against climate change, ocean acidification, and nutrient pollution.
How can others around the world help in the fight to protect our oceans?
Nearly every country with a coastline can grow some species of seaweed. There is a ton of opportunity for people to start their own seaweed gardens or work with local government to enable seaweed farming.

And we need innovation to make this dream a reality. Skills in marine engineering, robotics, phycology, ocean, as well as climate science, policy, and environmental economics — together these will create game-changing kelp farms for our oceans, atmosphere, and planet.
---
Be sure to follow all of Patrick's kelp adventures by following him on Facebook, Twitter, and Instagram. For more information on the Our Ocean Conference and to see the full agenda, visit our website or leave us a comment on Facebook, Instagram or Twitter.