Spotlight: Marina Porto, 24, São Paulo, Brazil

We are just 65 days away from the Our Ocean Youth Leadership Summit 2019 conference and we can hardly contain our excitement. The summit will bring together international leaders from governments, businesses, research institutions, universities and active, ocean leaders including young ocean leader, Marina Porto. She is just 24 years old, hails from São Paulo, Brazil, and is absolutely committed to a sustainable future for our ocean. We can't wait for you to meet her by reading her interview below.
---
Next up, meet Marina Porto, 24, from São Paulo, Brazil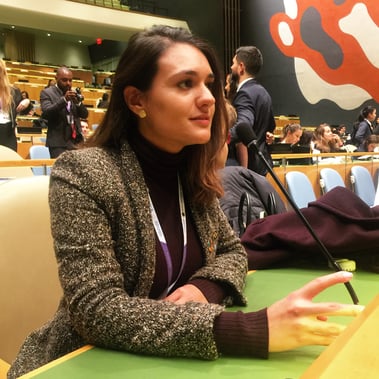 Tell us a little bit more about yourself and the work you are doing in your community to help protect the ocean.
I am a Brazilian environmental economist and a strong believer that sustainability is key to human development. Maintaining oceanic health at adequate levels is essential to keep humanity inside the planetary boundaries. As the challenge takes multiple forms, I have worked in different ways throughout the years. In the private sector, I have engaged companies I worked for to take action in reducing plastic waste, improving waste management and raising awareness for environmental issues.
I have also started two entrepreneurial projects focused on responsible consumption and production — the first one is an e-commerce site with eco-friendly products which includes information about sustainability. The second project is a sustainable flower shop focused on reusing flowers that would be discarded in good condition after events.
Currently, I am studying for a Masters in Environmental and Natural Resource Economics, where I focus my research on economic and environmental impacts of marine litter, as well as blue economy and oceanic planetary boundaries.
Additionally, I believe multi-stakeholder negotiations and gatherings have a relevant role in advancing the sustainability agenda. I have thus participated in COP 24, UNEA 4, Paris Peace Forum, C40 Summit, and excited to participate in other international multilateral events, such as the Our Ocean 2019.
What inspired you to get involved in ocean health?
What inspired me to get involved in ocean health is my dream to build a more sustainable world while understanding the incredibly crucial role that the oceans play in ensuring life on earth.
The ocean provides food, oxygen, climate control and a diverse range of ecosystems that are essential to our well-being and development in the face of immense pressure threatening it with overfishing, pollution, and acidification. The more I learn about it, the more fascinated I am by the ocean's beauty and importance.
Why do you believe your ocean project is especially impactful?
I believe that by exploring the problem from a multi-stakeholder perspective, I will be able to support the development of more efficient and assertive solutions to sustainability and ocean protection.
As it is a multi-stakeholder problem, understanding trade-offs and contexts are critical to the implementation of new policies and initiatives. Furthermore, by sharing experiences and knowledge, I am constantly raising awareness on the status of our oceans, potential impacts, and inspiring more people to act across different scales.
What does being a young ocean leader mean to you?
To me, being a young ocean leader means being a voice for the youth in my community in critical discussions, pushing forward the ocean's agenda and inspiring action. Being a young leader is also a chance to encourage other youth to join the movement, and taking the lead in creating a virtuous network.
Where do you see yourself and your work in five years?
In five years. I see myself effectively supporting the development of projects and policies to address (mainly) marine plastic pollution and ocean acidification, pushing for more commitment and ambitious action. In 5 years, we will be closer to our 2030 SDGs target, and I will be working tirelessly to achieve it.
How can others around the world help in the fight to protect our oceans?
There are multiple actions that would help in the fight to protect our oceans. At all levels, the action is possible and needed. Governments and negotiators should seek more comprehensive commitments. Companies should adopt more sustainable policies and production methods (e.g. reducing plastic materials in packaging, reducing the use of fossil fuels, controlling the contamination in waterways, et al). When it comes to civil society, we as citizens around the world have a strong role. People have the power to innovate and be sustainable entrepreneurs, to demand more action from companies and governments, to bring the discussions to the forefront and to inspire change. Furthermore, changes in daily habits can be of great help, such as choosing sustainable options of products, avoiding single-use plastic, recycling, and more.
Everyone can help in this fight, and everyone can benefit from it.
---
Marina, your hard work and dedication towards a sustainable ocean is superb and we are delighted to have you joining us in Oslo.
To keep up with all the amazing things Marina is doing, be sure to follow her on Instagram. And, for more information on the Our Ocean Conference, visit our website or leave us a comment on Facebook, Instagram or Twitter.