Spotlight: Aimee Clark, 21, Wellington, New Zealand
The Our Ocean conferences were initiated by Secretary of State John Kerry in 2014, with the aim to put oceans on the foreign policy agenda and to create a platform where leaders from government, business, and civil society meet on an equal footing to promote action and innovation for clean, healthy, and productive oceans. SOA is the official youth partner to the summit, and produces the Our Ocean Youth Leadership Summit.

This year's conference in Oslo will highlight the importance of knowledge as the basis of policies to ensure sustainable future economic growth, and will emphasize integrated management of sea and coastal areas as the key to oceanic protection and sustainable use.

At the core of the Our Ocean conferences are voluntary commitments for significant and meaningful actions towards a clean, healthy and productive ocean. Previous conferences have resulted in nearly one thousand commitments.
Today, we are highlighting Aimee Clark, who will be joining attendees of all ages, from all over the world, who care deeply about ocean health.

---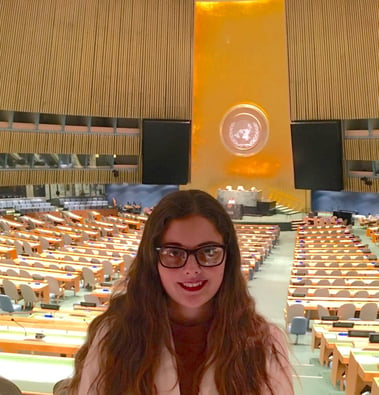 Tell us a little bit more about yourself and the work you are doing in your community to help protect the ocean?
I am a third-year undergraduate student of Marine Biology and Environmental Studies at Victoria University in Wellington, New Zealand. In addition to my undergraduate work, I have been on exchange at Dalhousie University in Nova Scotia since August. I am extremely passionate about ocean literacy, sustainability education and fostering effective interdisciplinary science communication.

The project I am currently working on is tentatively titled, 'The Yellow Submarine Program.' It involves the creation of a portable science laboratory and creative classroom space that would travel to New Zealand schools and communities to bring an ocean and environment-centric education program to school-aged children. The program would be focused on fostering innovative solutions to environmental challenges and helping kids feel connected to the marine environment around them.

My hope for this program is that it will be utilized by under-resourced schools that do not have the funds for science equipment or field trips to the coast. It's incredibly important that all children are given the opportunity to be inspired by the power and beauty that is the ocean.
What inspired you to get involved in ocean health?
I can't remember a time in my life that I wasn't connected to the ocean. Growing up in close proximity to the beach, I was always swimming, surfing and spending hours upon hours nosing through tide pools. It was just this beautiful, magical place that I could go to and it's really where I felt most alive.

When I was about nine years old I was gifted a copy of "The Blue Planet" by my Granddad, a man who had a major influence in shaping my underwater journey. Somewhere along the way, I discovered marine biology and I really haven't looked back since. I became passionate about marine conservation and educating young people about environmental issues when I began volunteering at the National Aquarium of New Zealand at 13.

In 2017, I was a delegate with the Aotearoa Youth Leadership Institute at the UN Ocean Conference and it was an incredible opportunity that allowed me to define my impact on ocean health.
Why do you believe your ocean project is especially impactful?
In order to be motivated and inspired to create change for the environment — you first need to learn about it, love it and care for it enough to want to do something. I truly hope this program will give all children access to science equipment, information, and experiences focused on the ocean. Additionally, my hope is for the Yellow Submarine Project to provide unique opportunities to solve real-world problems and ignite lifelong empathetic connections to the oceans for the next generation and those to come.
What does being a young ocean leader mean to you?
Being a young ocean leader means inspiring and enabling people to be empowered, to step up and make changes in their own lives for the benefit of our ocean. We are currently living through a crucial tipping point in our planet's history and we all need to take individual and collective responsibility for our past and future actions.

I feel that as a young ocean leader I have the opportunity and responsibility to speak for our young people and make their voices heard while also pushing for the best protection of our waters. As a young girl, I was in search of someone else like me — someone pushing for the protection of our planet to learn from and look up to. Every day, I wake up and strive to be that for other young advocates like myself.
Where do you see yourself and your work in five years?
In five years I would love to have successfully launched The Yellow Submarine Program in New Zealand and be well on my way to bringing it to schools all over the world.
How can others around the world help in the fight to protect our oceans?
There is a multitude of ways for people to help protect our oceans. Changes in daily habits and individual actions like cutting out plastic products or thinking about how you travel to and from work or school is a great start!

However, collectively people need to step up, make their voices heard and demand that governments and companies adopt more sustainable policies. One way that communities can get out and make an impact in the coming weeks is to get involved with the Climate Strike this Friday, September 20.
---
Be sure to follow all of Aimee's adventures by following her on Instagram.
For more information on the Our Ocean Conference and to see the full agenda, visit our website or leave us a comment on Facebook, Instagram or Twitter.