Virtual #ClimateWeekNYC took place September 21st-27th, 2020, and although we were disappointed to not be back at the United Nations, Daniela Fernandez, CEO of SOA, participated in multiple virtual events. Check them out below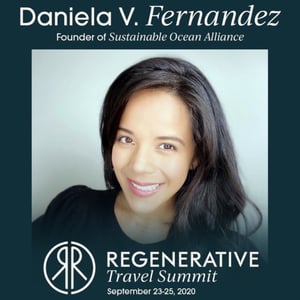 Regenerative Travel Summit
Daniela joined a panel for the Regenerative Travel Summit to discuss Marine Conservation within the tourism landscape with leading industry experts:
"In order to save our planet, the tourism industry needs to go past sustainably and into regeneration. Tourism companies, governments, hotels and travel agencies need to take responsibility for instituting sustainable practices, educating their guests and enforcing eco-friendly behavior. Although these entities are the ones that hold the power in the consumer's journey, individuals also need to be aware of how their actions can negatively impact the local destinations they travel to."
Next time you travel be sure to:
Do your research
Book eco-friendly resorts
Choose experiences guided and run by locals
Eat at authentic restaurants
Minimize your waste
Stay on trail
Wear reef safe sunscreen
Purchase authentic, hand-crafted goods
Watch the full recording here.
---
As part of the SEWF Digital Summit Daniela virtually sat down with Tegan Samija, of Social Shifters, and Showmy Hasan Chowdury of Awareness 360 for a panel entitled: Be Part of the Shift – Young People in Social Enterprise. They talked all things professional development, self awareness, social entrepreneurship, and the urgency of the threats facing our ocean.
Watch the full recording here.
---
CU Boulder Conference on World Affairs
Daniela also participated in the annual Conference on World Affairs in September alongside:

Jayla Hemphill, Student Activist, Students Demand Action & Black Lives Matter
Jeffrey Ngo, Activist Historian of Hong Kong; PhD Student, Georgetown University
Moderator:

Sabrina Sideris, Program Director, University of Colorado INVST Community Studies
Full recording here.
---
In Case You Missed It:
Catch Daniela's podcast with David Helvarg: "Blue Frontier".
---
You can catch Daniela at the next SOA Connects Ocean Solutions Summit: November 5th, 2020