41 countries were represented in our Community Call with UN Special Envoy for the Oceans, Peter Thomson.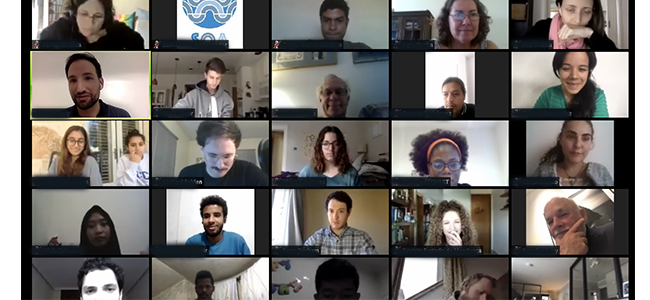 131 unique visitors from 41 countries joined our first Community Call this past Tuesday with Peter Thomson, and many said it was moving, uplifting, and motivating to see and hear from so many in the ocean community.

Peter focused on the bigger picture of planetary health and the opportunity contained within this crisis:

"In the midst of the Covid-19 crisis, our chief responsibility lies in pursuit of the common good: caring for those around us, heeding the strictures of our authorities, and supporting the heroic efforts of our essential services and health workers. But these dark times will soon end and we will find ourselves stepping out on the road of recovery. When we do, it is the high road to a sustainable world that we must take, not the low one returning to planet-polluting single-use plastics, profligate burning of fossil fuels, and wanton denigration of Nature. Human security demands that we build back better - the Blue-Green recovery road lies ahead."
If you're working on ocean health—as a student, entrepreneur, young professional, or volunteer—or just beginning to explore how to turn your passion for the ocean into something impactful, SOA wants to support you and connect you to others in our community who can be a resource.
Each week, the SOA team will update you on our latest news, feature the work of someone in the community, and create space for breakout discussions, connections, and questions. To accommodate multiple time zones, we will host one 45-minute call weekly on Tuesdays, alternating between 9:30am and 4:30pm week-to-week.
You only need to register once (to either or both) and then opt in as you're able
.
Community Calls are about helping YOU connect and collaborate with SOA and other ocean advocates, but will also occasionally feature special guests who can stimulate conversation and provide unique perspective.
To make sure these calls truly meet your needs, we invite you to fill out this brief survey, and to indicate whether we can work with you to share your work through our Community Calls, social media, or other SOA channels.